Don't Move
(2004)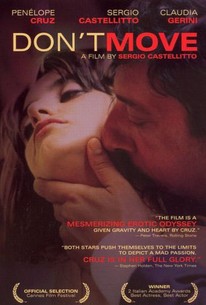 Movie Info
Don't Move is the second feature from actor/director Sergio Castellito (Mostly Martha), who wrote the script with his wife, actress/author Margaret Mazzantini from her best-selling novel. Castellito stars as Timoteo, a successful surgeon and permissive father whose teenage daughter, Angela (Elena Perino), has just had a life-threatening motorbike accident. Sitting in the hospital, wondering if his daughter will survive, Timoteo thinks back to a fateful day 15 years earlier when his car broke down on a remote country road in the rain and a bedraggled young woman, Italia (Penélope Cruz), invited him into her ramshackle home only to have him force himself upon her. Timoteo then returned home to his lovely wife, Elsa (Claudia Gerini). But unable to get Italia out of his mind, Timoteo returned again and again to her sordid shack. They began to develop genuine feelings for each other. Elsa is reluctant to have children, despite Timoteo's wishes, so when he learns that Italia is pregnant, he has a critical decision to make about how he wants to live his life. Don't Move was shown at New York City's Walter Reade Theater in 2004 as part of a Sergio Castellito retrospective presented by the Film Society of Lincoln Center.
Critic Reviews for Don't Move
Audience Reviews for Don't Move
½
It's the second time I've seen it, and it definitely deserves a spot in my Favorite Movie List! Penelope delivers an intense performance that reminded me very strongly of Geena Rowland's performance in A Woman Under the Influence by Cassavetes. Beautiful drama.
a haunting and passionate film.
Stefanie C
Super Reviewer
½
An interesting movie. Sometimes a little confusing as Timoteo is remembering the past as his daughter is going through a life and death surgery. We find out he was about to leave his wife for a sultry Italia (Penelope Cruz), but chose to stay with his wife when she became pregnant.