Doomsdays
(2015)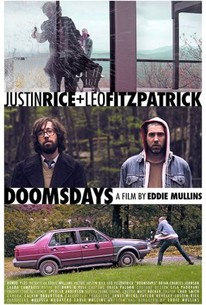 Movie Info
A pre-apocalyptic comedy, DOOMSDAYS follows the misadventures of Dirty Fred (Justin Rice) and Bruho (Leo Fitzpatrick), a pair of free-wheeling squatters with a taste for unoccupied vacation homes in the Catskills. Their commitment to the lifestyle is challenged, however, when a runaway teen and an aimless young woman join their ranks. (C) Official site
Critic Reviews for Doomsdays
Audience Reviews for Doomsdays
This was meant to be the 2600th review, ah well. It wouldn't have been much different anyway, it's not like I thought this was a masterpiece or anything. I mean, I thought it was pretty good all things considered, but it's one of those movies that's not even necessarily that funny. I'm not saying it's unfunny or anything of the sort, but the comedy is of the sort that's more of an acquired taste than anything else. This will appeal to a certain type of crowd and that certain crowd will eat it up. Parts of this remind me of Wes Anderson minus the overly quirky characters and situations. At the very least, this film relies on situations that are a little more believable. Essentially, Fred and Bruho are squatters who spend their time living in unoccupied vacation houses. They're, basically, doing this as a result of the fact that they feel, perhaps wrongly, that the apocalypse will come sooner rather than later and, therefore, them squatting is their preparation for such an event, since everyone will have to do it. I believe this is the case for Bruho, at least. I find that Fred's motivations are more about he's just an intellectual that doesn't actually want to work for anything that he wants, he'd rather just take it from someone else. It's really difficult to make these characters likable and it's not like they even tried. Fred is a habitual liar and Bruho has some really bad anger problems. But, try as they might, the characters weren't actually that unlikable at all. I think the movie has a strong script and it does a good job at making you see Fred's and Bruho's perspective without trying to justify their actions. It's up to the viewer to decide as to whether or not they're wrong or right about what they say and what they do. On their journeys, Fred and Bruho, at first, come into contact with Jaidon, whom they take on as a protege-type. Later on, Fred becomes sexually involved with Reyna and she also comes with the group on their...journeys. The movie is good and all but, realistically speaking, to me, there's not really a point to it. And by that I mean the fact that the film doesn't really seem to have any sort of narrative. It's not a sketch movie, since you follow the same characters through the entirety of it, but the film doesn't really have 'a point'. It's just these characters squatting in these houses and seeing what adventures they find themselves in. It might as well have been a YouTube series, since the movie does feature title cards for each day. They film's events start on March 1st and they end on April 1st. There's a blurb on here that says the film is about the fantasy of, essentially, living a life without consequences. And I guess there's a point to that, but it's not a narrative that's particularly interesting to me, the characters don't really go anywhere from their initial state. That's fine if you have an actual story that goes somewhere, even if the characters don't. Though I guess that's a bit of a contradiction, since if the story goes somewhere then that means the characters have to be right there with you. The acting is good though. Justin Rice and Leo Fitzpatrick are well matched. Brian Charles Johnson and Laura Campbell, as Jaidon and Reyna respectively, are also good. So I can't complain about that either. It might seem like I'm ragging on this movie, but I genuinely did like it. It's just a movie that's more of an acquired taste. I can't say I fully "acquired" it, but I still liked the movie. It's not perfect, not even fucking close, but this is still a pretty good movie. I wouldn't recommend it though, it's not a film that's easy to like.
Jesse Ortega
Super Reviewer
Doomsdays Quotes
There are no approved quotes yet for this movie.
Discussion Forum
Discuss Doomsdays on our Movie forum!