Double Dare
(2005)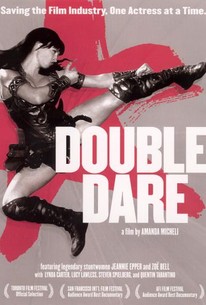 Movie Info
Jeannie Epper and Zoe Bell are two women who get hurt for a living -- they're Hollywood stuntwomen, who take the falls and dodge the punches while taking the place of glamorous stars. Epper's big break came when she was hired to stand in for Lynda Carter on the Wonder Woman television series in the 1970s, while Bell made a name for herself doing Lucy Lawless' stunt work for Xena: Warrior Princess. Double Dare is a documentary which looks at the lives and careers of these two women, as well as their friendship. Epper, in her early sixties, finds herself dealing with ageism in the entertainment industry, just as she's dealt with sexism much of her life, as she struggles to stay in the game, while Bell learns from her older friend not only the nuts and bolts of stunt work but the trails Epper and her compatriots had to blaze to be respected in their profession. Double Dare also features appearances by Quentin Tarantino and Steven Spielberg.
Critic Reviews for Double Dare
Audience Reviews for Double Dare
½
The story of Jeannie Epper, legendary stunt woman (who doubled Linda Carter on the original "Wonder Woman" television series in the '70's amongst many, many other legendary projects) meeting and befriending New Zealander Zoe Bell (now legendary stunt woman who doubled Lucy Lawless on "Xena", Uma Thurman in "Kill Bill Vol. 1 & 2" and starred in "Death Proof" as herself), mentoring her as she rises from relative obscurity to become globally known and respected for her natural talent. A warm and genuine story that shows that occasionally in showbiz, you can maintain your soul, be a good person and win the brass ring. Recommended.
Mark Baumgardner
"Double Dare" is a documentary about two Hollywood stuntwomen and their journey through a physically demanding industry. Even though I gave this film a low rating, there isn't anything wrong with it. I didn't really get into it but it was still interesting and informative. The main storyline of the documentary follows Zoe Bell as she transforms from Xena into Uma Thurman's double in "Kill Bill." I definitely have a greater appreciation for the endurance required by these warriors. I think that most people can appreciate this film but it because a lot cooler if you are a "Kill Bill" fan, even if the film is only included for 10 minutes. I enjoyed seeing Quentin Tarantino in this context, getting a glimpse into his world of casting. While it doesn't hold a ton of entertainment value like the documentaries that don't feel like documentaries, "Double Dare" serves its purpose and opens us up to the world of stuntwomen.
Jonny Priano
A good doc about what its like being Stunt Women. I have way more respect for stunt workers after seeing this.
Poul Farnham
Double Dare Quotes
There are no approved quotes yet for this movie.
Discussion Forum
Discuss Double Dare on our Movie forum!