Down in the Valley
(2006)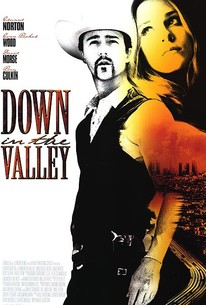 TOMATOMETER
AUDIENCE SCORE
Critic Consensus: The premise of Old West clashing with modern suburbia is fresh and initially intriguing, but the second act degenerates into a clumsy jumble of events which strain credibility.
Down in the Valley Photos
Movie Info
When Harlan Carruthers, a charismatic cowboy who seems as if he would be much more at home in Monument Valley than in the San Fernando Valley, has a chance encounter with Tobe, a bored and restless suburban teenager, both of their lives are turned upside down. To Harlan, Tobe embodies all the purity and innocence impossible to find on the mean streets of contemporary L.A., while Tobe is drawn to Harlan's poetic charm and romantic spirit. Despite the obvious difference in their ages and backgrounds, and the growing opposition of Tobe's father, Wade, the couple pursues their passionate, furtive romance until it becomes apparent that Tobe is unprepared for the intensity of Harlan's love. Then, things take a sudden, dangerous turn when Tobe discovers that Harlan is not at all what he appeared to be.
People Who Like this movie also like
News & Interviews for Down in the Valley
Critic Reviews for Down in the Valley
Audience Reviews for Down in the Valley
Down in the Valley is a bit of a jumble, switching tones and genres quickly from the first to second half, but I'm still glad I watched it. The performances by all of the main actors, especially Norton, are pitch perfect and make this movie better than it probably is. The first half is the good half, building up a sweet romance that is quiet and touching, but the second half has tons of implausible moments that make this otherwise great movie a little hard to swallow. I wish the screenplay was better than it is, but it is still worth a rental based on everything else.
Josh Lewis
Super Reviewer
½
Down in The Valley What a great film...very layered and subtle. It is beautifully shot and the four main characters are original and yet painfully familiar in their alienation, anger, and despair. The Cowboy character played by Edward Norton (who is amazing) seems so simple at first but as he is drawn into the family his character and the truth unravels in ways that left me at a stand still near the end of the film. The character played by Rory Culkin, "Twig", says very little throughout the film and yet he conveys a sense of yearning and loneliness almost too painful to bare. But even he undergoes an unexpected transformation by the end of the film. The lead is a beautiful creature on the screen. Her relationship with the Cowboy seemed unlikely at first and then became completely believable, especially in the bathtub scene. This is a film for lovers of independent film and psychological kinds of cinema. There are also several scenes that border on surrealism. This film will leave you thinking and wondering about your life
Cassandra Maples
Super Reviewer
It's all over the place. The filmmaking is unfocused and too in love with itself to care about the real story behind it all. The acting isn't all that convincing either.
Edward Boxler
Super Reviewer
Down in the Valley Quotes
There are no approved quotes yet for this movie.