Dragonheart
(1996)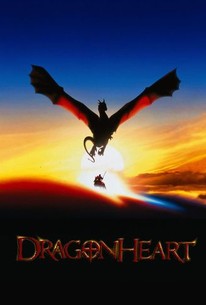 Movie Info
A boy and his dragon unite to fight evil in this fantasy. Bowen (Dennis Quaid), a Knight of The Old Code in Medieval times, is summoned by Aislinn the Queen (Julie Christie) to the bedside of her son, Einon, who is also Bowen's student. Einon has been wounded and is near death; with his heart about to give out, Bowen calls upon Draco (voice of Sean Connery), the mightiest dragon in the land, asking for a sliver of his mighty heart so that the boy might survive. Draco makes Bowen pledge that when Enion grows to adulthood and becomes king, he will rule with fairness and compassion before the beast will donate a piece of his heart. Einon agrees to the pledge, but years later, the adult Einon (David Thewlis) has become a cruel despot, in no way good on his promises. Bowen, angry at Einon's betrayal, is convinced that the dragon is somehow responsible and goes on a spree, killing the mammoth reptiles at a fevered pace. However, when Bowen once again encounters Draco, the dragon convinces him that a dragon-slayer who has killed the last dragon also puts himself out of a job; Draco and Bowen work out a business arrangement, where the monster "attacks" villages and Bowen is paid to "kill" him. In time, however, Draco and Bowen realize that they must set aside their lucrative business in order to challenge the authority of the evil ruler. Draco the Dragon was the first fully-computer animated character to have a speaking part along side flesh and blood actors in a film; Sean Connery's recording sessions as the voice of Draco were recorded on video as well as audio tape, so that his facial expressions and mouth movements could be adapted to the character. ~ Mark Deming, Rovi
People Who Like this movie also like
News & Interviews for Dragonheart
Critic Reviews for Dragonheart
Audience Reviews for Dragonheart
½
I remember this coming out in 1996 and thinking they had just ripped off the film title from 'Braveheart' which came out the year before or 'Thunderheart'...just saying. So an evil King gets killed by a small bunch of rebellious peasants. His ugly ginger son takes his place but also gets wounded so he's taken by good knight Quaid to a Scottish dragon which can heal humans apparently. He is healed and made to promise he will be good unlike his father, well he lies and turns out even worse, didn't see that coming huh. This angers Quaid as he feels the dragon twisted the young Kings heart so he vows revenge on all dragons. The catch is that further down the line Quaid's knight realises that a worth while deal can be struck with the dragon for monetary gain. So they begin a partnership where the dragon scares the poor dumb peasants and Quaid rides in and saves them...for a few pieces of gold. So the film is set in olde England and does have a reasonable realistic approach in that sense, or at least they try. Problem being the film doesn't look anything like England but in fact looks exactly like where they shot it, eastern Europe. I did get the feeling that most of the budget for this film was used on creating the CGI dragon as everything else looks pretty poor really. This King only seems to be King of a small valley, there is no other mention of the rest of England or any other people outside this valley. His castle is pokey, he doesn't seem to have many troops, there seems to be more peasants than troops or even buildings to house them, everyone wears the same outfits all the time, the wigs are all obvious and hilariously bad and the film keeps circling around the same grassy/rocky areas over and over. The effects at the time were big, they were big time effects believe me, this film garnered much attention because of its CGI dragon. Looking back now its nicely done on the whole but obviously with time the cracks are now evident and the CGI shines through. There are some nice shots when 'Draco' is wet and when he breathes fire, plus the flying sequences are quite good but when he chats with humans it becomes a bit iffy. And yes Draco is his name, draco the dragon, surely they could come up with something a bit more original?. The idea of a knight and a dragon teaming up for a living during the medieval period is a good one but it doesn't quite feel fully serviced here. We only get a very very bare bones look at other peasants, other villages and how they go about this agreement. No sooner have we seen one badly interpreted village scam the plot goes off down this rebellion route against the evil young King. We then get a very very very average looking final battle sequence against...I dunno, about 50 horseback troops and about 100 peasants who were conveniently trained up in the art of war not more than a few hours before. There isn't really any decent lore in this film either, nothing on dragons much. The fact Draco can speak is hugely important I would of thought, it shows he is an intelligent beast, not just a dumb killing machine, surely humans could learn a great deal from this creature. I also want to know if all dragons can speak in this universe, they clearly have magic powers and possible immortality with a human, sheesh there is loads to discover here but we get nothing!. Why on earth would people wanna kill all these super intelligent sentient beings off?!!. It really does all feel a bit low rent...accept for the dragon. In fact the dragon is the best thing in the film really, Quaid looks bad in his blonde wig, Dina Meyer looks ridiculous in her peasant garb, Isaacs is wasted, Postlethwaite is also wasted but Thewlis is actually a decent slimy King...in a bad ginger wig. The choice of Connery as Draco is a good one, no complaints there, in fact its perfect. A fun cheerful fantasy with a surprisingly stirring orchestral score no doubt, but looking back its all very hokey and quite poorly made if you look closer. The selling point is Draco obviously and without him I think this would have been a disaster. Its a B-movie with an A grade effect in it basically.
Phil Hubbs
Super Reviewer
½
Dragonheart is a thrilling fantasy adventure that tells the story of King Einon who was wounded and summons Draco, one of the last living dragons in the land. Unfortunately when Einon grows to be an adult, he becomes a cruel king, with no compassion. I first saw Dragonheart when I was young, and it was a film that captured my imagination. I've seen a second time in the past years or so, and I still thought the film was just as exciting as it was the first time that I saw it. The film has a great cast of talented actors, great action, a well developed story, and if you're looking for a wonderful Fantasy film about dragons; then Dragonheart is the film for you. The story I thought was very compelling with plenty of action and drama elements that was necessary to tell a terrific story. Although he only voiced the CGI dragon, Sean Connery was wonderful, and I thought he was a key player to making this a wonderful film experience. Other actors who shine here are David Thewlis in the role of King Einon and Pete Posthwaite. Though by today's standards, the CGI looks primitive; Dragonheart is still a thrilling Fantasy Action Adventure film that delivers terrific entertainment. I never really cared for Dragon films to be honest, but Dragonheart is a film that stood out for me and I thought it was a wonderful and fun film to watch. With lots of action, adventure and drama; Dragonheart is a classic of the genre, and is quite frankly underrated. A wonderful film that has elements will appeal to everyone.
½
Just a weird movie, even when you know it's about dragons. The fact that the script is so bizarre and inhuman makes for one incredibly corny and dumb movie. It essentially has no beauty or style, it's just a mess all around. I think this marked the temporary downfall in Dennis Quad's career and the start of unnecessary CGI. You can't even laugh at this movie, it's just too unlikable.
Conner Rainwater
Super Reviewer
Dragonheart Quotes
| | |
| --- | --- |
| "Draco": | You must have hated us very much. |
| Bowen: | I only hated one of you. These I killed because I wanted to kill him. But I never found and I never will. Since you're the last, he must be dead. |
| "Draco": | Tell me, what was he like, this dragon you hated? |
| Bowen: | He only had half a heart, but even that was enough to pollute an innocent boy. |
| "Draco": | Einon was no innocent! HE polluted the heart! |
| Bowen: | How do you know that? How do you know that, dragon? |
| "Draco": | [trying to carefully choose his words] All dragons know that story. What was to be their hope became their doom; a spoiled ungrateful child was given a great gift and destroyed it! |
| Bowen: | No! I knew Einon. I was his mentor, I taught him the ways of right of honor. |
| "Draco": | Then he betrayed you just as he did the dragon whose heart he broke. |
| Bowen: | That's a lie, dragon! |