Dragonwyck
(1946)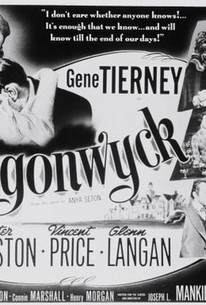 AUDIENCE SCORE
Critic Consensus: No consensus yet.
Movie Info
Years before he became the leading star in horror movies, Vincent Price starred in this gothic thriller based on the best-selling novel by Anya Seton. Nicholas Van Ryn (Vincent Price) is a wealthy feudal heir of Dutch ancestry living in New York's Hudson Valley in the 1840s. Nicholas has come to hate his wife because she has been unable to give him a son; their only child is a daughter he doesn't care for. Miranda Wells (Gene Tierney), a distant relative of the Van Ryns, comes to live at their estate and work as an au pair girl; Nicholas becomes infatuated with her and eventually poisons his wife so they can marry. However, while Miranda gives birth to a son, the boy is sickly and does not live to adulthood. Nicholas begins to slip into insanity, moving to the attic of his mansion and drowning his sorrows in drugs. A distraught Miranda seeks the counsel of the local physician, Dr. Jeff Turner (Glenn Langan); Dr. Turner falls in love with Miranda, and he eventually discovers that Nicholas killed his first wife to be with her, and that Miranda might be next on the madman's list. Dragonwyck was the directorial debut of screenwriter and producer Joseph L. Mankiewicz.
Critic Reviews for Dragonwyck
Audience Reviews for Dragonwyck
½
Vincent Price is the very definition of a star in this interesting tale from turn of the century New York. Gene Tierney is a adventurous farmer's daughter aching to see beyond the protective wings of hard-as-nails Dad (Walter Huston in perfect casting) as so is receptive when a distant cousin (Price) asks for a governess for his daughter. Price is wealthy, entitled, and uber-aware of that, letting everybody know, but stymied by the reality of no heir and so he eyes Tierney as a vehicle to solve his problem. Watching him chew scenery with wry if wanton abandon is the reason to see this.
Kevin M. Williams
Super Reviewer
This is one of my all time favourite movies! I know some people don't think it's that great, but personally I love it. I read the book afterward, it's even better than the film, but the movie's got Vincent Price, so I watch it over and over again. If you're a fan of his, you need to see his performance in this movie.
overwrought gothic worth it for vincent price's fun performance as the aristocratic and megalomaniacal master. can u say ott?
Stella Dallas
Super Reviewer
Dragonwyck Quotes
There are no approved quotes yet for this movie.