Dream Home
(2010)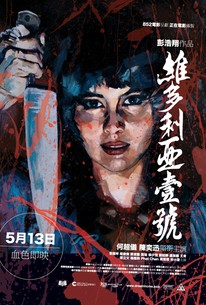 Movie Info
This extreme slasher film from director Pang Ho-cheung stars Josie Ho as Cheng Lai-Sheung, a woman in Hong Kong whose goal is to live in a place where she has a view of Victoria harbor. She goes to desperate, often illegal, means to raise the funds required to live in such prime real estate, but no matter how hard she tries she can't ever seem to reach the ever-increasing funds needed. Then one day she realizes that her dream is worth killing for.
Critic Reviews for Dream Home
Audience Reviews for Dream Home
Don't be put off by the title of this one because this ain't no soppy family drama or cringey rom-com. This brutally enjoyable slasher plays out in present day Hong Kong where a hard-working young woman sets off on a murder spree on residents of an apartment building hoping the property prices in the complex will drop enabling her to afford her "dream home" and its scenic view. The film was a winner with me after 2 minutes and it features a number of graphically bloody death scenes with excellent make-up effects and minimal, but clever, use of CGI. The story also is fairly strong for a film of this type, it's a relevant social commentary and the villain is given a sympathetic side as we are shown her backstory in flashbacks which explains her obsession with having to own this particular apartment. With all these flashbacks though the story got a little confusing at times, it could have been better handled there but it wasn't bad enough to make me lose interest at all. This movie is definitely one of the better Asian horrors I've seen recently, and all without a ghost in sight. GO SEE IT!
Surprisingly good slasher movie. It's definitely one of the more violent movies I've seen recently, it's got some REALLY unique and funny deaths (well mostly just the one, you'll know which one it is). But there's also a lot of disturbing moments in the movie, to the point that some people will just shut it off and understandably so.. The thing that makes the movie better than just your average slasher movie, is that it does try to give you every angle that led to this character becoming a homicidal maniac. And usually when horror movies do this is so they can create sympathy or try to justify all the violence. This movie goes in the opposite direction and it makes her even more unlikable that she'd become what she did for such an absurd reason. Josie Ho, while not great, does a good enough job at playing a character who has completely lost her mind. There's also a lot of very dark satirical moments in the movie, which added another layer to a very insane movie. The twist in the movie is also funny and fitting. It didn't take away from the movie at all and, in fact, made perfect sense. One of the few horror movies I've seen with a twist that actually makes sense and doesn't ACTUALLY make the movie worse. That's about it really, an extremely violent but a good and intelligent slasher movie.
Jesse Ortega
Super Reviewer
Dream Home is one of the most vicious, gory, and violent (occasionally to the point of hilarity) slasher flicks that I've seen in quite a while. A Hong Kong woman has wanted to own a high-rise apartment for most of her life, and she's not going to let anyone stop her from achieving that dream. Not only is Dream Home wince-inducingly entertaining, it also has a story that actually makes sense. Always a good thing (and often a bonus), in this kind of movie. The film jumps between the childhood of the main character, more recent events in her life, and the murderous rampage happening in the present, and it all ties together quite nicely. I highly recommend this to slasher fans looking for something beside the usual set-ups and characters and those looking for a foreign movie with a little more bite, but those with a tender disposition or no stomach for on-screen violence need not apply.
Dream Home Quotes
There are no approved quotes yet for this movie.