Drive-in Movie Memories
(2002)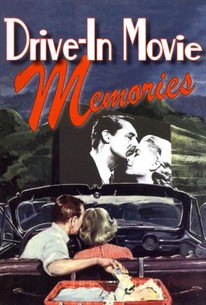 AUDIENCE SCORE
Critic Consensus: No consensus yet.
Drive-in Movie Memories Photos
Movie Info
The history of the drive-in movie is explored, with a focus on its various stages of development and popularity. Featured are historic photos, footage, and interviews with actors, film buffs, producers and industry critics. Included: Leonard Maltin; Barry Corbin; Burton Gilliam; Beverly Garland; Samuel Arkoff; Joe Bob Briggs.
Critic Reviews for Drive-in Movie Memories
All Critics (3) | Fresh (2) | Rotten (1)
The film would have been far more enjoyable had director-editor Kurt Kuenne lingered longer on the terrific images collected by producers Don and Susan Sanders.
August 29, 2002
So much fun, it's almost dangerous. Informative and fascinating, the documentary has so many big laughs that you can make yourself sick guffawing.
Audience Reviews for Drive-in Movie Memories
Kurt Kuenne was the featured director at the 2012 Cleveland International Film Festival. This doc runs a little less than an hour and was screened with a handful of Kuenne's fictional short works. I was really interested in the topic, but was disappointed in the way it was shot and edited. I ended up liking a couple of his shorts better. There are still a couple drive-in theatres operating in northeast Ohio and the Aut-O-Rama, which I have been to a few times, has a short ad that runs as you arrive. It explains nearly as much about the decline of drive-in movie theatres as this doc does and describes how buying from their concessions (at really reasonable prices), instead of sneaking food in, is important for keeping them in business. The ad does this in a much shorter time and with just as much nostalgia. Besides giving a basic history of outdoor movie theaters, this doc is presented as a memory scrapbook. The talking heads throughout are either redundant, hard to understand, or a little embarrassing. The narrative thread could have been more clear. Interview clips could have been shorter. And with a documentary on this topic, it really didn't make sense for a shaky cam effect to be applied when looking at still images. Kuenne tries to suggest the rumble of vehicles entering a drive-in or war interrupting normal life, however you can't see a still image clearly if it is not still. There were many sound effect and audio issues too.
Byron Brubaker
Super Reviewer
Drive-in Movie Memories Quotes
There are no approved quotes yet for this movie.