Drunktown's Finest
(2015)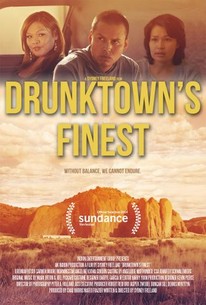 Drunktown's Finest Videos
Drunktown's Finest Photos
Movie Info
Drunktown's Finest is the coming-of-age story of three young Native Americans - a college-bound Christian girl raised by white parents, a rebellious and lost father-to-be, and a promiscuous yet gorgeous transsexual - as they struggle to escape the hardships of life on the Navajo reservation. This film portrays modern Native American youths struggling to find their place in the world, but more importantly reveals the same struggles that many young Americans face while growing up in small town U.S.A. (C) Indion
Rating:
NR
Genre:
Directed By:
Written By:
In Theaters:
Runtime:
Studio:
Critic Reviews for Drunktown's Finest
Audience Reviews for Drunktown's Finest
Drunktown's Finest Drunktown's Finest Review by Justin Gauthier Set in the fictional Navajo reservation border town of Dry Lake, New Mexico, Drunktown's Finest stands as a strong example of a modern day coming-of-age tale featuring three young Native American protagonists. First time writer/director Sydney Freeland manages to deftly weave themes of cultural recognition, self-identity, and the incubation of the storied within the context of popular culture. Through adhering truthfully to the arcs of her characters, Freeland has created a visceral viewing experience that neither coddles nor shortchanges. From the opening introductions of our three protagonists, the film thrusts us into the complicated world of young Native America and the ever-present struggle of the urban and reservation Indian to fit into a society that runs roughshod over the values of indigenous cultures. The film offers entry points for viewers of all backgrounds while speaking directly to a Native American experience. Despite a seeming focus on a coterie audience the story is told with enough skill and attention to basic human themes that it plays generally while retaining an admirable specificity. In terms of establishing a visual language, Freeland has the knack to convey to an audience through the use of familiar camera movements implemented at just the right moments. The director is not afraid to move the camera or use a handheld approach. In those instances where Freeland used more subdued camera movement, the drama of the three stories seemed to blossom. The resulting effect is an emergent style of realism that promises to develop further given more screen time. As an initial foray, the craft of filmmaking is on full display here. This effort bodes well for both Freeland as director and the Native Lab of the Sundance Institute as creative incubator. It will be exciting to track the maturation of Freeland as an auteur and the Native Lab as a cradle for Indigenous film creation into the future. I attended a screening and panel of the film in January 2016 at the Institute of American Indian Art in Santa Fe. After the viewing, Sydney Freeland and actor MorningStar Angeline fielded questions from the audience. Freeland chronicled the journey to getting the film produced. The impetus for the film came from a young Freeland viewing a 20/20 expose chronicling the epidemic rates of alcoholism in Gallup, New Mexico, Drunktown's Finest was a response, an attempt to humanize and contextualize the damning numbers while offering an opposing view. Spreading the weight of the story across three main characters works well for a screenplay that originated with one main protagonist. The believability of the story rests on the performances of our three protagonists. Luther "Sickboy" Maryboy, played with seething anger and thuggish aplomb by Breaking Bad regular Jeremiah Bitsui, is a young Navajo man with aspirations of "... becoming adults and shit." Bitsui fits the part and delivers a fine performance, especially in those moments where he must navigate the world between his scripted tantrums. Felixia John, a young aspiring model that finds herself at odds with the world and society as a transgendered person, represents a character that addresses gender issues and the complexity with which they play out at a personal, tribal, and societal level. This type of character has never been given a thoughtful and thorough place in Indigenous cinema before. Navajo actress Carmen Moore, herself a transgender person, was able to portray Felixia with a performance that inspires compassion and understanding. The aforementioned MorningStar Angeline tackles a difficult role as Nizhoni Smiles, a young adopted Navajo woman. Angeline turns in a heartfelt performance as a young, soon-to-be-leaving college student. The compelling aspect of this character is the inner conflict of dealing with a negative image of her Navajo heritage perpetuated by her non-native adoptive parents. MorningStar shines in the moments wherein she must internalize her struggle to reconcile her relationship with her biological and adoptive families. As a product of the Sundance Institute's Native Lab, Drunktown's Finest represents one of a vanguard of films that represent a new Indigenous cinema. Though the film is novel, in retrospect, I am reminded of Kent Mackenzie's 1961 film The Exiles. The landmark film was one of the first examples of an honest portrayal of Indigenous modern life in an urban setting. In both films, there is a theme of reservation escapism. A major difference between the two films is that Drunktown's Finest features an optimistic exit point in direct opposition to The Exiles nihilistic Mobius-strip ending. Freeland's optimistic finale deposits the viewer directly onto the Navajo reservation surrounded by the slow-motion grandeur of southwestern vistas while celebrating a significant new beginning. The ending is fostered through a return to family and ceremony, though it seems almost too idyllic it also represents an effective and bright contrast to the dark, weighty drama throughout.
Justin Gauthier
Drunktown's Finest Quotes
There are no approved quotes yet for this movie.