The Dry Land
(2010)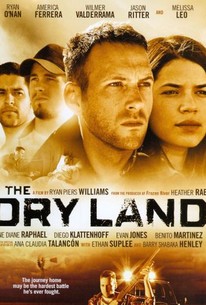 Movie Info
A soldier comes home from the war but can't find peace in his heart and mind in this independent drama. James (Ryan O'Nan) returns to his hometown in Texas after serving a long hitch in Iraq, and is warmly welcomed by his wife, Sara (America Ferrera), and best friend, Michael (Jason Ritter). However, his homecoming party is awkward and it's clear James is not the same as he was before he left. Sara's father, David (Benito Martinez), arranges for James to get a job working beside Michael at a meat processing plant, but when an argument with a co-worker turn violent, James' life goes into a tailspin and Sara leaves him. James still hasn't come to terms with his experiences in Iraq, and a reunion with one of his Army buddies, Raymond (Wilmer Valderrama), convinces him he needs to make contact with Henry (Diego Klattenhoff), a fellow soldier who was part of an incident that scarred them both. The Dry Land was the first feature film from writer and director Ryan Piers Williams, and received its world premiere at the 2010 Sundance Film Festival. ~ Mark Deming, Rovi
News & Interviews for The Dry Land
Critic Reviews for The Dry Land
Audience Reviews for The Dry Land
½
An interesting look at PTSD that never manages to be engaging. I admire the attempt to create something that can inform viewers, but I was any engaged every now and again. Wilmer Valderrama is surprisingly effective, and Ryan O'Nan is well-cast as a depressive Iraq war vet, but the film doesn't really manage to connect on a level that doesn't feel like a sappy indie weeper.
Caleb McCandless
another soldier returns fron traq with PTSD and other issues and tries 2 readjust to life in the states clear rating
Gregory Wood
Cast: Ryan O'Nan, America Ferrera, Wilmer Valderrama, Jason Ritter, Melissa Leo, Ethan Suplee, June Diane Raphael, Sasha Spielberg, Evan Jones, Ana Claudia Talancón, Benito Martinez, Barry Shabaka Henley, Diego Klattenhoff Director: Ryan Piers Williams Summary: Upon returning after his tour of duty, an American war vet (Ryan O'Nan) grapples with repressed memories from his experiences in Iraq and the everyday mundanities of his home life -- dealing with his isolation by embarking on a road trip with an Army buddy (Wilmer Valderrama). This intense drama, which also stars Jason Ritter and America Ferrera, takes a head-on approach to confronting the conflicted emotions of the modern warrior. My Thoughts: "It's an intense indie film about the effects of post-traumatic stress disorder. This movie is sad. The things these soldiers go through is unimaginable to most of us. Ryan O'Nan was the star of this, and he was believable and honest as James. Great supporting cast as well. There are some really heavy scenes. The ending especially. It was pretty intense and you really didn't know which way it was going to end. Just a good film. Some probably won't like it, but I hope more see it."
♥˩ƳИИ ƜѲѲƉƧ♥
Super Reviewer
The Dry Land Quotes
There are no approved quotes yet for this movie.
Discussion Forum
Discuss The Dry Land on our Movie forum!