Duck
(2005)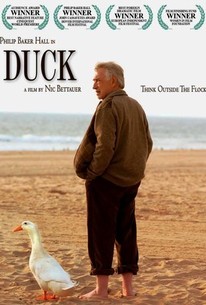 Movie Info
An aging societal outcast and a motherless duck set out to find shelter and meaning in a future where people are separated by as many degrees as they are connected. The year is 2009, and the last public park in Los Angeles has been closed to the public. The city is a desert, and dispossessed widower Arthur Pratt (Philip Baker Hall) has outlived his usefulness. A retired history professor who spent all of his savings caring for his beloved late wife, Arthur sets out to the park where his son and dearly departed are buried to pay his final respects before ending his own life. Arthur's grim westward march hits an unexpected hitch, however, when an orphaned duckling that has recently cheated death adopts the homeless septuagenarian as a surrogate mother figure. Once again displaced when their park becomes a landfill and their pond is drained, the unlikely pair embarks on a Sisyphean journey to find shelter and meaning in a world where their lives seem to have little value.
Audience Reviews for Duck
Dumb. Here's the thing, this was SUCH a good idea for a movie, and it was done SO wrong... the screenplay made no sense... he mentions WWII and Kilroy was here, then decides to name the Duck Joe... there were absolutely no transitions between scenes, the music was overly distracting, and all the extras were terrible actors that just kept pulling away from the ultimate point of the movie... which I guess there were several of... also a bad idea... Started out strong, and then committed suicide within the first five minutes... This movie could have been great 50 years ago, as a cartoon, or as a high school senior's film project where the budget was ... a duck... to whom I give one star.
Lizzy Bennett
Super Reviewer
Duck Quotes
There are no approved quotes yet for this movie.