Eastern Condors
(1987)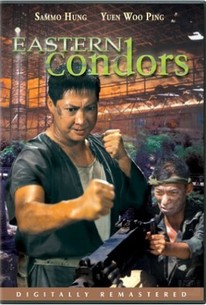 AUDIENCE SCORE
Critic Consensus: No consensus yet.
Movie Info
This action adventure represent's Hong Kong's take on The Dirty Dozen. In this version, the US army sends a rag tag group of convicts on a suicide mission to blow up an old ammo dump before the enemy finds it.
Critic Reviews for Eastern Condors
There are no critic reviews yet for Eastern Condors. Keep checking Rotten Tomatoes for updates!
Audience Reviews for Eastern Condors
Sammo Hung and a cast of thousands head to Vietnam to blow up an ammunition dump the Americans failed to secure before retreating. The original Hong Kong trailer heavily comprised of footage that landed on the cutting room floor could have very well given "Eastern Condors" some necessary substance. The finished product squeezes the life out of the characters in favor of wall-to-wall ammunition, explosions, and empty-handed fighting. When someone dies the film doesn't allow you to care because you're constantly being smacked with more and more combat, nevertheless, "Eastern Condors" is so much fun to look at it's doubtful you'll be satisfied watching this quasi-"Dirty Dozen" update just once.
Adam Laidig
½
A pretty great Hong Kong war/action film. It has flaws; some stunt shots that cut away at the wrong moments (probably because they didn't work out in camera), and occasional silliness that undercuts the often serious action. Despite those missteps, there is so much good stuff including a heaping helping of Sammo Hung Kam-Bo's always beautifully creative choreography and stuntwork that the flaws are buried under the magnificence of what is right. Over the top, sometimes amusing, occasionally quite brutal action flick with a surprisingly high body count among the heroes. Even the scenes lifted from American films (like "The Dirty Dozen" and "The Deer Hunter") are given an over the top Hong Kong spin. The opening scene where an Asian soldier gets fed up with the Americans struggling with a flag stuck at half mast during a flag raising ceremony and basically runs up the pole to fix it signals a certain disdain for the capabilities of American actors. Interesting to see the men recruited from prison portrayed as much more emotionally open than the guerrilla rebel women they join on the mission. The women have been immersed in war and are strictly no-nonsense ass-kickers.
Michael Harbour
I just wish Ching Ying Lam had a bit more to do here, this is clearly a showcase for both Sammo and Yuen Biao, with Yuen Wah and the rest of the cast giving solid support to the whole thing. I can't even remember the plot, but who cares with so much badass action going everywhere? It's a hallmark in Sammo's career as a director, and it clearly shows why.
Tsubaki Sanjuro
Super Reviewer
Eastern Condors Quotes
There are no approved quotes yet for this movie.
Discussion Forum
Discuss Eastern Condors on our Movie forum!