Ebola Syndrome
(1996)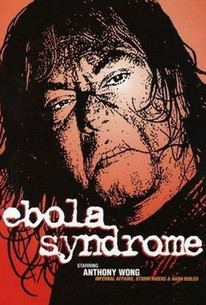 AUDIENCE SCORE
Critic Consensus: No consensus yet.
Movie Info
Even more gruesome and excessive than his notorious 1993 horror film The Untold Story, this bloody Category III sleazefest from Hong Kong director Herman Yau has earned its considerable reputation among gorehounds and Asian horror cultists as among the most cringe-inducing films of its kind. Anthony Wong, who had starred in Yau's previous film, gives one of his most unnerving performances as Kai, who has been a fugitive in South Africa for a decade after committing a trio of brutal murders in 1986. In the present, he is seen working at his illegal low-wage job as a cook at a Chinese restaurant. During an excursion to purchase pigs from a local African tribe, Kai is overcome with lust and rapes a native woman who, unbeknownst to him, is infected with the deadly Ebola virus. Before too long, Kai is an Ebola carrier, setting the stage for some truly revolting sequences. After decapitating his employer, Kai rapes and murders the dead man's wife and uses the couple's corpses to make "African Buns" which pass the virus to anyone unfortunate enough to eat one. Growing more insane by the minute, Kai returns to Hong Kong and goes on a bloodthirsty killing spree, terrorizing the public and allowing Wong to further demonstrate that Florian Koerner von Gustorf (Schramm) isn't the only actor willing to break every conceivable onscreen taboo to shock an audience. Belaboring the point, Wong returned two years later for The Untold Story II. With its virtually identical structure and plot line, this film may be considered an unofficial entry in that series as well. Vincent Wan co-stars with Marianne Chan, Shing Fui-On, and Bobby Yip. ~ Robert Firsching, Rovi
Critic Reviews for Ebola Syndrome
Audience Reviews for Ebola Syndrome
½
I have MUCH STRONGER opinions for this (and Dr. Lamb) than i did maybe 15 years ago. But i can't lie it's sick, twisted, wrong, but all out One can't say they didn't enjoy it. And it makes the perfect Halloween film... Ah Kai is a wanted convict from China who escapes to South Africa after killing his former boss. He works at a Chinese restaurant and one day travels with his boss to a South African tribe that is infected with the Ebola virus. Kai sees a dying infected tribe member and rapes her, contracting the virus. Kai, however, is immune to the infection. It's a Funny film with none stop violence and pretty much an Asian remake of Outbreak... Mostly the scene's in Hong Kong mimic the film. Overall very well acted but directed and it is a must see for horror fans.
Cassandra Maples
Super Reviewer
Insane, twisted, sick, gross, outrageous, perverted, racist, vile, mysoginist, vulgar, offensive, low, demented, crude, evil in it's purest form. And yet.......i loved every minute of it. I guess i'm going to hell for this.
Tsubaki Sanjuro
Super Reviewer
Ebola Syndrome Quotes
There are no approved quotes yet for this movie.