Eden
(2013)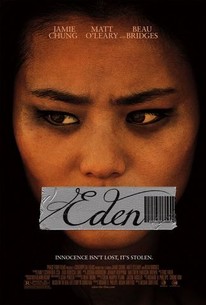 Movie Info
Jamie Chung stars in a searing contemporary drama, based on the true story of a Korean-American teenager who is kidnapped from a bar in New Mexico and transformed into a sex slave in Las Vegas by a band of ruthless international thugs. Beau Bridges plays an avuncular federal marshal, a good ol' boy, who turns out to be one of the operation's masterminds while Matt O'Leary is equally repellent as the boss's wildly erratic, drug-addled right-hand man. But it's Chung who breathes life into a story that could have been reduced to violent, even pornographic sensationalism, if not told so compassionately from the victim's point of view. Human trafficking is a $32 billion-a-year business, perpetrated throughout the world. EDEN gives a thoughtful, albeit mind-boggling perspective on how these crimes are sometimes committed in America within plain sight.
News & Interviews for Eden
Audience Reviews for Eden
½
To me, films like this are the true definition of horror, because they really happened. Anyone can look up the graphic details on Wikipedia and see that not only did it happen here, but it happened fairly recently. Hyun-Jae was just a typical California teenager, who went out to party one night. She met a man, left with him, and quickly learned he wasn't what he appeared to be. Hyun-Jae is sold into prostitution and has no other choice, but to be a sex slave for the next three years. The film was very well done, in that it didn't go over the top. Abduction of Eden showed us, what we needed to see, in order to understand and be shocked by what happened, but it didn't go so far as to desensitize us to the story. Jamie Chung, A.K.A. Stu's wife from the Hangover, stars as Hyun Jae, and her performance was really key to how the audience would react to what was happening. Equally as good, was the jailer, Matthew O'Leary. It took me a while to recognize his as the kid from Domestic Disturbance and Spy Kids 2, and it was shocking to see how quickly he grew up. He was this horrible guy, doing terrible things, but there was a part of you that saw him as trapped as the girls were and you couldn't help but feel sorry for him. The cast makes the film, it's as simple as that. Abduction of Eden was a story that was fast moving and somewhat graphic, but ultimately predictable. Films like this one could go either way, it all comes down to just what they show and who they cast, and the producers of this film did an outstanding job of both.
Todd Smith
Super Reviewer
I would say this is a good movie, featuring Jamie Chung's best performance by a country mile. Problem is that the ending leaves such poor taste in your mouth that it did downgrade the rating, even for a little bit, but I'll get to the ending later. But I did like most of the movie, how it portrays the sex trafficking "business" without doing so explicitly. What happens is implied rather than shown to you, and I think that gives that makes the cruel treatment these girls faced even more tragic. The film looks at Hyun Jae as she rises through the ranks of this "business" in order to protect herself as she is over the age limit for the girls these guys want, so that aspect of the film was nice. But, in a way, that sort of makes the whole story feel a little impersonal seeing as, even though Eden did this for her own safety, she's essentially doing to the other girls what the guys did to her after they first kidnapped her. I'm not saying that she didn't go through terrible experiences, because she clearly did, but seeing her rise through the ranks and basically being taken out of "the field", IE: having to go out and forced to have sex with other men, to do office work made her struggle a little harder to get into. As mentioned, Jamie Chung is quite good, it's just the characterization that feels a little off to me. I'm sure some of this was changed to have more 'compelling' storytelling. But, at the same time, and this is a feeling I get with few movies based on true events, it seems like this would be better movie if it was a documentary. And this brings us to the ending. Essentially, the cops have discovered about the business since one of the security guards had been wearing a wire for a long time. By this point Vaughan, to whom Eden has been aligned with in order to keep herself safe, and the rest of the crew, obviously all the girls they've kidnapped and forced to become sex slaves included, are heading off to Dubai to escape capture. Eden manages to escape, after she 'kills' Vaughan, and goes to this house where they've kept the only friend she made. This is a house where they take girls that get pregnant and after they give birth their babies are sold off. Eden manages to escape with her friend and it looks like their horrific ordeal, that went on for years, is over. She stops at a payphone, and you're thinking she's about to call the cops to let them know that there are many underage girls that need to be saved and where they're keeping them. Instead she calls her mother and the movie ends. And to be honest I HATED this fucking ending. I realize the story is told from Eden's point of view but she wasn't the only one who went through this horrible shit. To be honest, I'm sure the other girls went through considerably worse shit than Eden, because Eden at least manipulated the system and rose through the ranks of this business and she managed to get herself a safe spot. The rest of the girls didn't and the movie doesn't even really care what happens to the rest of these girls, what matters is that Eden made it out and that left a really bad taste in my mouth. It makes it really hard to feel any compassion for Jae/Eden when she could've very easily called the cops first THEN called her mother. It's something so simple, but it only makes Eden come across as incredibly selfish, even if she was a victim. It would be one thing if she escaped by herself and then called her mother, but she saved Priscilla, her only friend, and she didn't even bother to do anything for the rest of the girls. Her life, at this point, wasn't even in danger. I could sympathize with Eden in rising through the ranks of this horrible business, as she may have been murdered if they found out how old she was, but this ending made her unlikable and unsympathetic. And I assume that that was not the intended purpose. I should clarify this is my criticizing a movie and not me criticizing the actual person that went through this. As mentioned, I'm sure creative liberties were taking with the film and the ending was probably one of those creative liberties taken. But it is one that makes the movie even worse, I'm sorry that's just the way it came across to me. Perhaps I should downgrade it because I really hated the ending, but this is a good movie with a great performance from Jamie Chung.
Jesse Ortega
Super Reviewer
Eden Quotes
| | |
| --- | --- |
| Bob Gault: | If you're born by sin, you live by sin. |
| | |
| --- | --- |
| Bob Gault: | This is why the shepherd loses his sheep. |