The Tomb
(2008)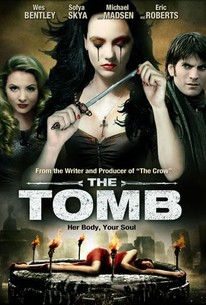 AUDIENCE SCORE
Critic Consensus: No consensus yet.
Movie Info
Wes Bentley, Eric Roberts, and Michael Madsen headline first-time feature filmmaker Michael Straininger's story of a successful writer and scholar who falls under the spell of a bewitching seductress on an obsessive quest for immortality. Inspired by Edgar Allan Poe's acclaimed short story of the same name, Ligeia tells the story of Jonathan Merrick (Bentley), a respected academic engaged to the beautiful Rowena (Kaitlin Doubleday), but unable to resist the advances of ravishing siren Ligeia (Sofya Skya). Ligeia suffers from a terminal illness, and in order to cheat death she extracts the souls of others. After tricking Jonathan into supporting her ghoulish endeavor, Ligeia gradually draws him into her mysterious world of darkness. Forsaking his beloved Rowena, Jonathan joins Ligeia in her lavish manor at the edge of the Black Sea. There, Ligeia's amaranthine presence slowly erodes the fragile psyche of her prisoner Jonathan, forever cursed to be the victim of his own undying lust.
Critic Reviews for The Tomb
All Critics (1) | Fresh (0) | Rotten (1) | DVD (1)
There are some good horror moments (especially when Ligeia is doing her black-magic voodoo by administering absinthe and trapping souls in her secret dungeon), but mostly the movie is talk, talk, sex, talk, talk.
Audience Reviews for The Tomb
"We will never have to pay that price. We can live forever." I don't know why I watch movies like these. They're clearly going to be awful. All the reviews I read further reinforced the fact that it was going to be awful. But, I still felt compelled to see it, anyway. And yep, it was awful. The problems were myriad. The scares and horror aspect of The Tomb were surpassed by most of The Goosebumps books I read as a kid. The story was silly and bland. The attempt to appeal to the audience with sex fell flat with scenes that would hardly earn a PG-13 rating and had no chemistry between the participants. The absolute worst things about The Tomb, though were the acting and the script. The entire cast was uniformly wretched, especially Wes Bentley and Sofya Skya. Sofya is certainly a very beautiful woman, but she would be wise to reconsider this whole "actress" thing. And Bentley came close to achieving the feat of making me never want to see another movie that he's in, ever. As for the script, describing it as "amateur" would be an insult to everyone who has ever been an amateur at anything in the history of the world. The dialogue is abysmal, and I can't imagine that anyone spent more than a few hours writing this. I don't know what kind of dire financial situations are responsible for Eric Roberts and Michael Madsen being in this dreck, but I'm willing to offer money out of my own pockets to help them never have to be in anything this terrible, again. The only possible entertainment to be gained from The Tomb is from making fun of it. It's hilariously bad, but still too boring for me to recommend even for a laugh with your friends.
Wes Bentley is one of the producers of this movie. He's the main character in the movie. He gets to make out with two quite attractive young females. These two attractive females then proceed to pretty much fight over him I wouldn't be surprised if this was a way to stroke his own ego. I'm sure he probably had nothing to do with the "creative" process of the movie, but it's just weird that he's the producer, the main actor, gets to make out with hot females. Not to shit on the guy as he's struggled with substance abuse and shit. But you gotta admit, this guy is really quite creepy looking and he just can't pull off the "handsome" young fella. The movie itself is just bad. It just looks bad, if more than $100,000 was spent on this movie I'll be pleasantly surprised. It just has that low-budget horror film taint that it just can't shake off. Not to mention, they just really put no effort into the story at all, just a piss-poor job. The acting's not very good either. As you can see, this movie's just no good at all. It was free for me. And I really like watching bad movies every once in a while, just to put the great movies into perspective. If all I saw were great movies, then I would just be numb to it all. These bad movies, quite frankly, are probably needed MORE than the great ones because of the reason I just mentioned. It helps put things into perspective.
Jesse Ortega
Super Reviewer
The Tomb Quotes
There are no approved quotes yet for this movie.