Edge of Sanity
(1989)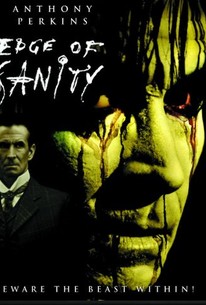 AUDIENCE SCORE
Critic Consensus: No consensus yet.
Movie Info
This demented fusion of Dr. Jekyll and Mr. Hyde with the legend of Jack the Ripper marks one of the final roles for Anthony Perkins, and certainly one of the weirdest performances of his career. Perkins plays Dr. Jekyll as more of a dedicated 19th-century man of medicine than an obsessed eccentric -- whose research into a safe form of anaesthetic leads to the accidental discovery of cocaine! Jekyll's inadvertent freebasing of the vapors from a cocaine/ether mixture triggers his transformation into Hyde - a murderer of prostitutes who dubs himself "Jack," thus allowing the convenient transition into the "Jack the Ripper" phase of the plot. This Hungarian production has fairly high production values, but Perkins' over-the-top antics and some glaring anachronisms (Jack's streetwalker victims sport accessories that look like Madonna's hand-me-downs) make it impossible to take seriously as a horror film.
Critic Reviews for Edge of Sanity
All Critics (3) | Fresh (1) | Rotten (2) | DVD (1)
Gorgeous production design. Not so gorgeous any other way
August 21, 2002 | Rating: 3/5
Perkins sleepwalks through a grimy and unpleasant affair.
July 25, 2002 | Rating: 1/5
Audience Reviews for Edge of Sanity
I love Perkins, but this movie was really average. It could have been so much better.
Anthony Perkins is no doubt quite a sinister person in films, but I?m not sure this film gave us anything unexpected other than, a few sexually explicit (considering this is a 1988) scenes and they all felt a little too seedy. There was no big thing made out of discovering the potion and the transformation that took place . On another note, I feel if you are going to introduce a theory to a film that Mr Hyde could also be Jack the Ripper, then I feel much more should have been shown in the murders to indicate this.
Lady D'arbanville
Super Reviewer
I expected great things from this movie. After all, it has two of my favourite things in it: Jack the Ripper and Anthony Perkins. But no, this movie is utter nonsense. Alas.
vieras esine
Super Reviewer
Edge of Sanity Quotes
There are no approved quotes yet for this movie.