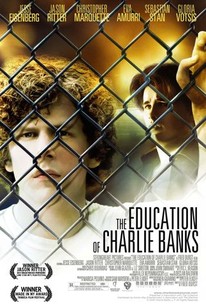 The Education of Charlie Banks
2007, Drama, 1h 40m
31 Reviews
5,000+ Ratings
What to know
Critics Consensus
Unevenness and earnestness mire this otherwise sweet, surprising coming of age drama. Read critic reviews
Rate And Review
The Education of Charlie Banks Photos
Movie Info
Charlie Banks (Jesse Eisenberg) and his best friend, Danny (Chris Marquette), attend college at an elite school in upstate New York. Charlie's world comes crashing down with the unexpected arrival of Mick (Jason Ritter), a bully from high school. As Mick worms his way into Charlie's life and the lives of his friends, Charlie begins to fear the worst: that Mick may be planning revenge for an incident from their shared past.
Rating: R (Sexual Content|Pervasive Language|Drug and Alcohol Use|Some Violence)

Genre: Drama

Original Language: English

Director: Fred Durst

Producer: Marisa Polvino

Writer: Peter Elkoff

Release Date (Theaters): limited

Release Date (Streaming):

Box Office (Gross USA): $14.5K

Runtime:

Distributor: Anchor Bay
News & Interviews for The Education of Charlie Banks
Audience Reviews for The Education of Charlie Banks
There's a really good movie here, somewhere, but it is bogged down by taking itself too seriously at times, weird consistency, pacing and some of the performances are a bit off in some scenes. This movie also has one of my pet peeves with movies, whenever a person falls off a great height, they always manage to break one leg right? But instead of the leg being all fucked up with bones sticking out, the actor that fell turns his leg to the left if it's supposed to be his left leg that's broken and same thing with the right leg. And it's a completely ridiculous visual every time I see it. It doesn't piss me off, but every time I see it I just laugh to myself and how ridiculous this all is. And I'm completely sure that this probably all just started as a comedy sketch, it seems to me that this sort of thing would've been made fun of by Monty Python in a sketch back in the late 60s and early-to-mid 70s. But apparently, a lot of people thought that this was an effective way to sell a fall from a great height. Seriously think about it, at what position must a person fall at for his/her leg to end up like they do in the movies. It's almost physically impossible, I'll go as far as to say. I'd think falling from a great height at a fast rate of speed INTO CONCRETE would fuck me up more than just turning my leg in a funny way. Are some filmmakers so lazy that they don't want to spend the money getting a decent fucked up leg? It's absolutely ridiculous. Anyway, I don't know why I ranted about that so long. Probably because I don't have a lot to say about this movie. It has its flaws, as mentioned. But I liked the dynamic of Charlie and Mick's interactions at the beginning. You could tell that they weren't trusting of each other, but they wouldn't say so outright. Then they somehow use that to build a real friendship between the two characters and it does feel natural. But the pacing just killed me, it took forever to get to what the movie was really about. I also wish the movie was funnier than it was. I think the movie just takes itself too seriously for there not to be more comedy than there is. It's almost really to the detriment of the movie. Because Jesse Eisenberg is pretty great at indie type comedy and I'm sure Jason Ritter MUST have learned something from his dad about comedic performance. Not to say the movie should've been all comedy, but there's a perfect balance that a movie like Win Win achieved (and amazingly so, in fact) that this movie doesn't. If that was even the purpose of this movie. There's some uneveness to Jason Ritter's performance. It's not bad, but it's not always good either. And then there's the issue of Fred Durst directing this movie. And I must say, for what I was expecting, I'd give him two thumbs up. Not like he's the next Paul Thomas Anderson or anything, but he proved himself to be an adequate director for his first movie. The guy knows nothing about pacing, that's for damn sure and he ain't ever going to be a big time director, but he's got himself a decent start with this movie here. I didn't see The Longshots, which was released one year after this one AND Durst also directed, so I can't say how he's progressed. And that's about it really, the movie, at its core is really good, but its flaws do definitely drag it down a notch, so I can't really recommend it. But some people will be able to overlook its flaws and enjoy the movie for what it is.

This suprised me by how good it was. This is a slow paced movie that some will find boring but i really liked it. A great movie. Grade: B+

Here is yet another one of those really good movies that most people have never heard of, including me. I have to say that I think alot of Independent films are much better that the so called big budget films. I was never once bored during this movie. A very well done film, with a talented cast.

When I first saw the movie cover, I thought Jesse Eisenberg (the headliner) was Michael Cera, lol. I was ready to completely dismiss this film when I saw that FRED DURST directed it, but it actually turned out to be an entertaining film. Charlie Banks, the main character, is a middle class kid with a rich kid for a best friend, who both seem to feel most at home in a working class neighborhood with all the black kids and blue collar kids. They're also best buds with the neighborhood bully who never seemed to learn that kicking a man when he's down is overkill. They head off to college, leaving the bully behind, establish new roots and identities, only to have the bully on their doorstep once more. I enjoyed it. It was subtle and witty without being self-aware or obnoxious about it. Charlie Banks is a nerd, but not the completely pathetic dry-mouthed stereotype that's become so popular in Hollywood. He's Seth Cohen without the neurosis. But I almost felt like it was a fantasy of the 70s. White kids and black kids kicking it together with no problem? Young women going to college without the assumption that they're getting an MRS? Working class kids hanging with trust fund babies without the judgment? It almost didn't feel real. I was pleasantly surprised by Durst's turn as a director. I wonder how he personally related to this story.
See Details