Eegah
(1962)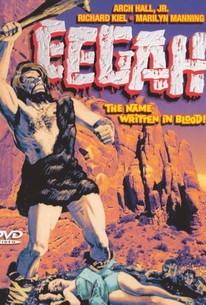 AUDIENCE SCORE
Critic Consensus: No consensus yet.
Movie Info
Considered by many to be one of the worst films ever made, Eegah! is the story of a gigantic Neanderthal who has managed to survive into modern times living in California's Mojave desert, and who falls in love with and kidnaps the teenage girl who discovered him in a cave. A handsome young man (Arch Hall, Jr., the director's teenage son) proves to be her savior and while he and his rock & roll band play, the police shoot the caveman to bits.
Audience Reviews for Eegah
As the new MST3K Netflix original was being promoted I decided to expose myself to some of the old episodes available for streaming on Hulu and Netflix (there is a different random selection on each platform). Whether it is Joel or Mike watching these awful movies with the bots I do not envy the torture they are put through. Their snarky comments add some entertainment value, but my ratings are based on the movie's quality itself and not the extra material broadcast from the satellite of love. A kind of proto-Encino Man. A wannabe teen heartthrob with an impossible pompadour, a Fay Wray type girl, and her bumbling grandpa find a living caveman (Richard Kiel) in the desert. Throw in some King Kong tropes and a clichèd tame rock song of the period that is supposed to appeal to the teen audience while a "monstrous" neanderthal grunts his way around suburbia while all he really wants to do is protect his cave home and you've got it.
Byron Brubaker
Super Reviewer
½
Up till this time I have missed watching this so called cult film/ Made with Drive - Ins in mind I'm sure its not a bad film. I was amazed to see a very young Richard Kiel who played jaws in a number of James Bond Films. In this movie he was EEGAH the giant who basically scared only 3 people until last 20 minutes. Archie Hall Jr what a hair job, don't see that today. Also a beautiful ford station wagon made a number of appearances throughout the movie. 3 1/2 stars. 10-27-11
Bruce Bruce
Super Reviewer
How hilariously bad can a film get? Watch this and see.
Eegah Quotes
There are no approved quotes yet for this movie.