Eldorado
(2009)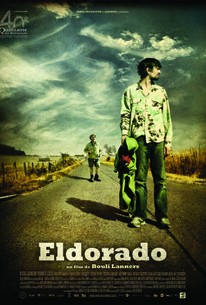 Movie Info
Two unlikely characters are brought together under equally unlikely circumstances in this eccentric road comedy from Belgian auteur Bouli Lanners. Yvan (Lanners) is an auto salesman who makes a good living dealing in American luxury cars. One evening, Yvan comes home to discover a burglar has made his way into his home, and a quick search reveals the criminal, Elie (Fabrice Adde), is hiding under his bed. Elie claims to have a weapon, but Yvan is convinced he's bluffing, and when the thief finally emerges he turns out to be a junkie who is feeling the first stages of withdrawal. Yvan feels more pity than anger toward Elie, and when he discovers the would-be criminal doesn't have enough money to get home, Yvan offers to give Elie a lift to his parents' house. However, Yvan's car breaks down en route, and the Good Samaritan who helps him fix it insists on having a few drinks with Yvan and Elie, leaving Yvan intoxicated and sleepy. When Yvan drifts off while driving, he ends up wrecking his car, and he and Elie are soon at the mercy of a two strangers in a camper. Eldorado was screened as pat of the Directors' Fortnight series at the 2008 Cannes Film Festival.
Critic Reviews for Eldorado
Audience Reviews for Eldorado
A twisted road film. I found this hilarious, but the humor is very subtle. great soundtrack too.
Stefanie C
Super Reviewer
½
In "Eldorado," Yvan(Bouli Lanners, who also wrote and directed)is unpleasantly surprised when he returns home to discover Elie(Fabrice Adde) hiding underneath his bed. At first, Yvan takes an agressive approach in rooting him out but he becomes cautious when Elie claims to have a knife. Come morning, Elie tries to make a break for it but not before Yvan manages to trip him up. Instead of calling the police, Yvan takes pity on Elie who has been clean of drugs for two weeks and chose Yvan's since it was the only place around without a dog.(There's a lesson here...) Yvan drops him off at the corner to hitchhike a ride to his parents' place near the French border. Upon his return, Elie is still there and Yvan agrees to give him a ride... "Eldorado" is a compelling road movie that deftly manages to balance its serious and offbeat elements(Alain Delon!?!). A lot of that comes from Yvan who imports American cars to Europe where the streets are too narrow to properly drive them.(If I remember my high school French teacher correctly, that is.) So, you have a man who is slightly out of place with his environment giving a ride to a stranger which is the right thing to do, even if he is doing it for the wrong reason. True charity does not need a reason and Yvan has to remember where his responsibilities end.
Eldorado Quotes
There are no approved quotes yet for this movie.