Electric Shadows
(2005)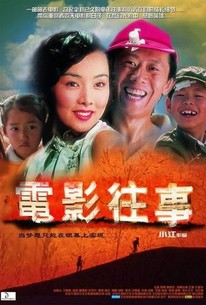 Movie Info
The beauty and tragedies of China's history are reflected in the lives of a handful of film fans in this historical drama. Mao Dabing (Xia Yu) is a delivery man working in a small village in rural China during the latter days of the Cultural Revolution. Mao is a movie fan who lives for the periodic outdoor screenings held in the town square, but he meets a bigger buff one day when, after he has an accident on his bicycle, he's assaulted by Ling-Ling (Qi Zhongyang), a cute but overly excitable young woman. After she's arrested, Ling-Ling gives the keys to her apartment to Mao and asks him to look after her fish while she's in jail; though puzzled, he agrees, and discovers her flat is a veritable museum of movie memorabilia. Ling-Ling's favorite star is Zhou Xuan, a singer and actress who was a major screen idol in the 1930s and inspired Ling-Ling to take a stab at acting, and when Mao's curiosity gets the better of him he starts reading Ling-Ling's diary, discovering she grew up believing her father was a major male star of the era. However, the truth is far less glamorous -- Ling-Ling's mother, Jiang Xuehua (Jiang Yihong), was an attractive and talented woman who bore a striking resemblance to Zhou Xuan and had a budding career in radio until she became pregnant and her lover left her rather than marry her. Declared a counter-revolutionary, Jiang's career in radio comes to an end, and she moves to a small rural town where she strikes up a relationship with Pan (Li Haibin), who runs the projector at the local movie house. Jiang and Pan are happy together and eventually marry, but when they have a son, Ling-Ling finds she's no longer the center of attention in the household, and her life begins taking an unexpected turn. Electric Shadows (aka Meng Ying Tong Nian) was the first feature film from director Xiao Jiang.
Critic Reviews for Electric Shadows
Audience Reviews for Electric Shadows
½
Sort of a Chinese Cinema Paradiso. Sentimental and compelling.
Randy Tippy
Super Reviewer
½
touching slow paced drama that takes time to unfold. Beautifully photographed, and a special film with an interesting story. My only complaint is that the entire film leads up to the end moment, when the 2 leads are reunited. However, that climax is so soft, almost to a whisper. I believe more could have been developed out of that moment, so in that sense a lost opportunity. An excellent work for a first time director.
The main character's name isn't Mao Dabing. It's still Mao Xiaobing. "Xiao" means "little" and "da" means "big," so he's joking that he has grown up. Very sweet movie but the more I watch it, the more leery I am of the melodramatic coincidences the story depends on.
Alice Shen
Super Reviewer
Electric Shadows Quotes
There are no approved quotes yet for this movie.