Elena
(2012)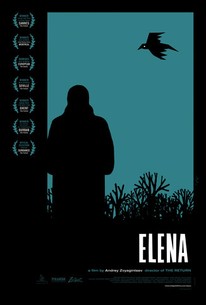 Movie Info
Winner of Cannes' Un Certain Regard Special Jury Prize, Elena is a gripping, modern twist on the classic noir thriller. Sixty-ish spouses Vladimir and Elena uneasily share his palatial Moscow apartment-he's a still-virile, wealthy businessman; she's his dowdy former nurse who has clearly "married up." Estranged from his own wild-child daughter, Vladimir openly despises his wife's freeloading son and family. But when a sudden illness and an unexpected reunion threaten the dutiful housewife's potential inheritance, she must hatch a desperate plan.... Masterfully crafted by award-winning Russian filmmaker Andrey Zvyagintsev (Golden Globe nominee The Return) and featuring evocative, Hitchcockian music by Philip Glass, Elena is a subtly stylish exploration of crime, punishment and human nature. -- (C) Zeitgeist
People Who Like this movie also like
News & Interviews for Elena
Audience Reviews for Elena
An intriguing drama of fascinating moral complexity and ambiguity, with an elegant direction that makes use of several long takes to show us the everyday life of its main character and the drastic choices that she decides to make in view of some hard circumstances.
Carlos Magalhães
Super Reviewer
'Elena'. A beautifully reserved piece of filmmaking exploring the class divide in modern Moscow. The direction is meticulous, patient and purposeful, capturing little moments and stunning imagery. A most memorable, simple score does wonders too.
"Elena," third feature film from Russian director Andrei Zvyagintsev, is a genuine work of art, but it's not a particularly good one. Zvyagintsev thinks deeply about the human condition and brings a real artistic eye to this story of post-Soviet class formation. But his minimalist style is underwhelming here. I didn't end up caring about the characters very much. And I think this was because of Zvyagintsev's cold style of direction and minimalist approach to story development. He strips things to the bone, which heightens the moral issues at play. But it also denudes the film. It strips the human dimension away. The eponymous main character is a nurse from a lower-class background who ends up marrying a wealthy patient for whom she is caring. Trouble ensues when her feckless grandson needs financial help to get into college and avoid service in the Army. Elena wants her husband to bribe the college admissions counselors. Her rich husband wants to teach the boy a lesson by not rescuing him. Conflict arises. Big time. I won't tell you how things turn out, but I will say that something gruesome happens. I love this basic story. I just wish Zvyagintsev was talented enough to bring it alive in a brutally compelling way. But he is not. The film is ultimately quite flat. The minimalism feels more flaccid and diffuse than incisive and penetrating. A disappointment. But it's a real pleasure to see a filmmaker with a global following bringing a serious story like this to the screen. Even when his films don't fully succeed, Zvyagintsev is a far more valuable filmmaker than someone like Tim Burton.
William Dunmyer
Super Reviewer
Elena Quotes
There are no approved quotes yet for this movie.