Elle
(2016)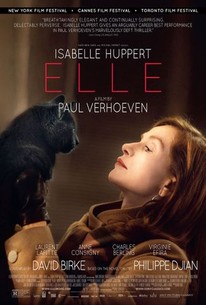 TOMATOMETER
AUDIENCE SCORE
Critic Consensus: Elle finds director Paul Verhoeven operating at peak power -- and benefiting from a typically outstanding performance from Isabelle Huppert in the central role.
Movie Info
Michèle seems indestructible. Head of a successful video game company, she brings the same ruthless attitude to her love life as to business. Being attacked in her home by an unknown assailant changes Michèle's life forever. When she resolutely tracks the man down, they are both drawn into a curious and thrilling game-a game that may, at any moment, spiral out of control.
News & Interviews for Elle
Audience Reviews for Elle
Director Paul Verhoeven will be seventy nine years old this summer, but if his latest film is any indication it seems the filmmaker has no intentions of letting age force him to be more precious. Of course, the danger in this-to prove you're just as daring or drawn to scandal as you always were-is going overboard in an attempt to defy. Going overboard in ways that can take actions or material from being seen as risky and/or bold to that of pure desperation. With nearly eight decades behind him on this planet one could certainly surmise that Verhoeven has crafted a French thriller concerning rape, betrayal, mystery, and lies upon lies for no other reason than to prove he can still be as shockingly captivating as ever, but such motivation never seems to be the case with Elle. Rather, Verhoeven is clearly only hoping to entertain as much as he provokes. It may seem odd to use the word "entertain" when describing a film that opens with an older woman (Isabelle Huppert will be sixty four this year) being sexually assaulted, but strangely enough Verhoeven opens the film with this shocking act so that the audience isn't left waiting for what has been sold as the crux of the film. Instead, we are dropped into the middle of the assault and then left to discover how there isn't necessarily a right way in which women or anyone who experiences such a trauma are expected to respond. In most instances it would seem the victim of as violent and unforgiving an act as Verhoeven documents and David Birke's screenplay describes would immediately notify the authorities and stay with a close friend or relative in light of being violated in a space they once felt safe, but none of this accounts for how Huppert's Michèle Leblanc reacts. And Verhoeven never takes the stance that his protagonists' choices are weird or wrong in any way, but more that they are interesting in the vein of bringing up more layers of this individual's story thus making the trials and tribulations of Ms. Leblanc all the more compelling and completely engrossing. It's not often with large-scale dramas or potentially cheap thrillers that the director trusts their audience enough to draw their own ideas or perceptions of the acts taking place, but just as there is no precedent for how Leblanc should react to her singular situation Verhoeven never sets a precedent for how he expects us to respond; simply laying out the facts of the story and forcing us to take them in in whatever horrific, alluring, frightening, or seductive way we ultimately do. read the whole review at www.reviewsfromabed.com
Philip Price
Super Reviewer
RAPES OF WRATH - My Review of ELLE (4 Stars) Skirting the line between feminism and misogyny has been one of the hallmarks of Paul Verhoeven's career. Love 'em or hate 'em, films such as BASIC INSTINCT and SHOWGIRLS delivered strong, iconic female characters and a LOT of skin. At 78, this Dutch Master doesn't seem to want to change his tune now, but with his latest film, ELLE, he's taken his brand to a highly original, perverse new level. Written by David Birke, which he adapted from a novel called "Oh..." by Philippe Djian, ELLE tells the story of Michèle Leblanc (the legendary Isabelle Huppert), a brusque, no-nonsense video game company owner who, in the opening scene, survives a violent rape in her living room. Instead of calling the police, Michèle quietly cleans up the shattered glass, takes a bubble bath, and carries on with her day. Some time later, at a dinner, she matter of factly tells the table about the incident. Hated at work and despised by the general public as a possible accomplice to her father's serial murders when she was a child, Michèle seems geared to not follow any predictable routes in life. She has complicated relationships with everyone she knows, including her mother, who lives for botox and her male gigolo, her best friend/business partner and her husband, her devout neighbors, resentful male employees and an adoring one, her less successful ex-husband and unambitious son. She even manages to talk sass to her cat, who impassively witnesses everything. In a story where almost everyone is a suspect, you would think discovering the identity of the rapist, who wore a ski mask, would be the end of the story. Clearly, the filmmakers have more on their mind when we learn who he is a little more than halfway through. It's what happens next where the movie goes a little bonkers and may have feminists crying foul. Michèle isn't your standard issue movie heroine. She's tough, conniving, socially impenetrable, sleeps with other women's husbands, and definitely likes things a little on the kinky side. It's as if her early life traumas have led to envelope-pushing behavior. She's trying to cope with the sins of her father the best way she knows how, and none of those choices are what you would typically experience in a studio revenge fantasy. In other words, this ain't no ENOUGH or SLEEPING WITH THE ENEMY, and that's a very good thing. Reportedly, no American actress would touch this material, which was originally written in English and translated to French after Huppert bravely climbed aboard. She has made a career out of playing idiosyncratic survivors, and her Michèle just may be her best performance yet. Huppert knows how to annihilate another person with her pointed brand of stoicism. Instead of resorting to eye-rolling or wild gestures, Huppert opts for intense, assured, confident command. So much of ELLE uses dark wit to subvert our expectations. In one scene, while using binoculars to spy on someone, she does something I've never seen another rape victim do in a film before. Here's a woman who knows what she likes and makes no bones about it. You may not ever want to know Michèle, but you sure as hell would love to get her on your side. Verhoeven keeps things visually simple, although his use of negative space inspires me, and he still favors those Bernard Herrmann-esque scores, this time provided by Anne Dudley. ELLE feels more natural than his other films, more French due to his use of a handheld camera most of the time. You may not like his politics, but just the way his heroine parks her car by tearing off the other car's bumper and slyly smiling, makes me want to stay on Team Verhoeven until the bitter end. So is this a feminist film or is it deeply misogynistic? I think the answer is yes to both. For a film that aims for a type of female revenge, it also shows a LOT of violence against women. Without spoiling anything, ELLE brings new meaning to yelling back at the screen, "Don't go in the basement!" Because most of the people around Michèle exude empathy more often than she does, you're not sure who you're rooting for. One-by-one, she takes aim at the men around her, as a way of saying, "My father took control of my life, and he will be the last man who ever does." It's not, however, the type of revenge you end up applauding. You may not even like Michèle in the end, or she may just wind up being your spirit animal. Whichever side of the issue you find yourself on, you won't soon forget Michèle's methods and Huppert's incredible performance.
Glenn Gaylord
Super Reviewer
½
Like all of Verhoeven's best films, "Elle" is transgressive and constantly defies expectations. It's a unique work, one that's very much a product of the current culture and a rebellion against it. Huppert's performance deserves to be studied for years to come.
Alec Barniskis
Super Reviewer
Elle Quotes
There are no approved quotes yet for this movie.
Discussion Forum
Discuss Elle on our Movie forum!