Elsewhere
(2009)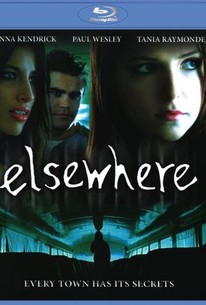 AUDIENCE SCORE
Critic Consensus: No consensus yet.
Movie Info
A teenage girl sets out in search of her missing best friend, a mischief-making flirt who had been recklessly meeting men online, in this thriller featuring Twilight star Anna Kendrick. Sarah (Kendrick) is a straight-A student and popular athlete, and Jillian (Tania Raymonde) is the girl with the reputation that every parent fears most. Yet despite their differences, Sarah and Jillian have been best friends for as far back as either can recall. Both girls long to escape their small town for something more exciting, though it's Jillian who acts first. Shortly after revealing to Sarah that she is searching for a man online to take her someplace new and exciting, Jillian vanishes without a trace. The only clues that Sarah has to her old friend's whereabouts are a journal, and a cryptic video message sent by Jillian just before she disappeared. Frustrated that the people in town would rather just pretend that Jillian never existed, Sarah enlists the aid of local computer whiz (who harbors a secret crush on her) to trace the origins of the mysterious message and unlock the mystery of her best friend's disappearance.
Critic Reviews for Elsewhere
All Critics (3) | Fresh (0) | Rotten (3) | DVD (1)
...a pervasively meaningless endeavor that's simply unable to justify its existence...
when you have a serial killer story, by avoiding this subject matter completely, you tend to soften the film
Kendrick rises above some predictable material here, but director Nathan Hope does at least infuse the film with some genuine frights and keeps things moving at a clippy pace
June 6, 2009 | Rating: 3/5
Audience Reviews for Elsewhere
½
As dismal as this film looks and sounds on the outside, "Elsewhere" really rises above it's straight-to-DVD packaging and delivers a somewhat provocative and engaging thriller. Led by the gorgeous Anna Kendrick, her command of the character Sarah comes off very much like the turn Kristen Bell gives as Veronica Mars, using the assets around her to figure out the case, including a classmate named Jasper, played wonderfully by unknown Chuck Carter. The biggest flaw within the film is the dated nature of the material. For a film that came out in 2009, "Elsewhere" plays out like a thriller in the dawn of the internet in the 90s. Treating a website like MySpace as if it were a new idea, the film and its characters are portrayed as having little knowledge of how they work or that they exist, even though MySpace was launched six years prior to the release of this film. Along with that, the mysterious abductor is telegraphed far before the climax of the film, despite director Nathan Hope's best attempts and covering it up once its been revealed. However, mixing in creeps throughout the film helps to divert the viewers attention without much harm to the overall arc. Kendrick is an astounding actress and proves more so here than anywhere else, that she can keep a film afloat no matter how bottom barrel it may seem.
Christopher Haskell
Super Reviewer
CAST: Anna Kendrick, Tania Raymond, Olivia Dawn, Chuck Carter, Paul Wesley, Jon Gries, Shannon Holt, Jeff Phillips DIRECTED BY: Nathan Hope SUMMARY: Small-town life goes topsy-turvy when young girls start disappearing out of thin air. But things get uncomfortably personal when Sarah (Anna Kendrick) learns that her best friend, Jillian (Tania Raymonde), has joined the ranks of the missing. The trouble is, only cryptic clues remain: Jillian's diary, a puzzling message that was sent from her cell phone -- and Sarah's prior knowledge that her friend had been meeting strange men online. MY THOUGHTS: "I was expecting much worse, but it really was a pretty solid thriller. The script could have been better, but the acting from the leads make up for it. It's a story that has been told, but it's still a decent flick. Anna Kendrick and Chuck Carter were pretty good and had good chemistry. He really brought the laughter in this film. The movie had a good look and feel. It's a good movie, worth the rental."
♥˩ƳИИ ƜѲѲƉƧ♥
Super Reviewer
½
It was an alright film. Nothing to get too excited over though.
Leigh Ryan
Super Reviewer
Elsewhere Quotes
There are no approved quotes yet for this movie.