Emelie
(2016)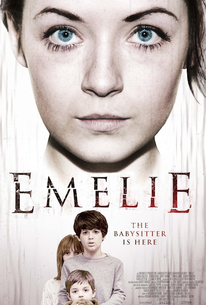 Movie Info
As their parents head out for a date in the city, the three young Thompson children immediately take to their new babysitter, Anna (Sarah Bolger, Into the Badlands, Once Upon a Time), who seems like a dream come true: she's sweet, fun, and lets them do things that break all of their parents' rules. But as Anna's interactions with them take on a more sinister tone, the kids realize that their caretaker may not be who she claims to be. Soon it's up to big brother Jacob to protect his siblings from the increasingly nefarious intentions of a very disturbed woman whose weapon is trust, and whose target is innocence. Featuring tour-de-force performances from Bolger and its three young leads, EMELIE is a multidimensional, nail-biting thriller that asks the question: how can you put an end to horror after you've already let it in?
News & Interviews for Emelie
Critic Reviews for Emelie
Audience Reviews for Emelie
I do not know if this review will be very long, but I'll see what I can do. This isn't your typical 'evil babysitter' movie, which is really just a variation of the 'evil caretaker' subgenre that we, honestly, as far as I can tell, we don't get many movies from. In many ways it's also a home invasion thriller, though the film does throw in some small little twists so it's not so straightforward of a movie. The plot is pretty simple, Emelie, the sitter, and this man she knows, who is never named, kidnap and kill the real babysitter so Emelie can pretend to be her. She's basically doing this to find the perfect kid for her to kidnap and raise as her after her own baby died in an accident, that was her own fault, but an accident nonetheless. To find out who's the perfect kid for her, she does these tests, if they can even be called that, which are pretty fucked up. Well one of them is pretty fucked up. What I liked about the movie isn't the fact that it's realistic or anything of the sort, but the story itself is far more believable than just another movie where all the sitter wants to do is kill the family for no real reason whatsoever. I can buy a mother, who's also unable to conceive another child, being so emotionally distraught at the death of child that she would go to the extreme of pretending to be someone else in order to kidnap a child she can call her own. Like I can buy that far more than other films that share similarities to this. The film does go, like I mentioned, to some pretty dark places. The darkest scene would definitely have to be the one where Emelie shows the kids a sex tape of their parents. It was obviously shot in a way where the kids were probably watching something else, but just the idea that Emelie would do this makes her far more detestable and devious than if she had something far more straightforward like I don't even know honestly. But it does work in creating this really effective villain, a villain who's intellectually more manipulative than she is physically threatening. It also helps when you have Sarah Bolger doing such a great job with her character. It's not like I think she's one of the elite actresses out there working right now, she may be at a later point, but she's really fucking good in the role and she adds so much to the character. But, again, this is a role that's more about the smaller details about the character and what makes her tick and not necessarily about her being this Jason Voorhees-type, though the ending makes her look like that. Though, in this case, I can understand that she would live through what happened, since it wasn't that bad. So yea, I thought this was quite a good movie. I wouldn't go as far as to say that it's really good, but as far as a believable horror film, one that taps into some pretty universal themes, particularly for those who are parents, this is a good movie with an excellent performance from Sarah Bolger. I'd definitely recommend if it ever hits Netflix or if you have a free Redbox rental.
Jesse Ortega
Super Reviewer
½
With servicable performances from its cast and a shout to Bolger's determined role and a intruiging though repetitive direction, Emelie reasonings and plot choices makes this movie flawed, though maybe someone can watch it and be inspired to do something truly great with what it has to offer.
Filipe Potter
Super Reviewer
The clever subtext to this thriller is that the children at first welcome breaking the rules that their parents have for them which the new babysitter allows. It's all a walk on the wild side ... until it turns into a real wild walk. Good performances enhance the tale. Favorite line: "You left your brother and sister alone with her?!"
Kevin M. Williams
Super Reviewer
Emelie Quotes
| | |
| --- | --- |
| Emelie: | Sometimes it's OK to destroy things for fun. |
| | |
| --- | --- |
| Emelie: | Don't be sorry. Everyone dies at some point. |
| | |
| --- | --- |
| Emelie: | How about a game of hide and seek? |