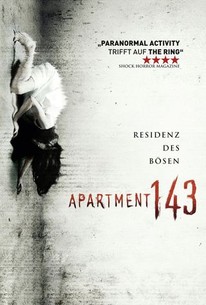 Apartment 143
2011, Horror, 1h 20m
6 Reviews
2,500+ Ratings
Where to watch
Subscription
Rent/buy
Rate And Review
Movie Info
Hired to debunk a supposed haunting, paranormal investigators come face-to-face with an angry spirit more terrifying than they have ever imagined.
Rating: R (Some Terror|Language)

Genre: Horror

Original Language: English

Director: Carles Torrens

Writer: Rodrigo Cortés

Release Date (Theaters): limited

Release Date (Streaming):

Box Office (Gross USA): $256

Runtime:

Distributor: Magnolia Pictures
News & Interviews for Apartment 143
Audience Reviews for Apartment 143
Apartment 143 is surprisingly bad, I was really quite disappointed with it. From the trailer, the cast and the plot I figured that it would be quite a good film but it really isn't. The story is really Grave Encounters meets August: Osage County with half the picture weaving a spooky story of ghouls and paranormal activity, whilst the other half literally involves nothing but the counselling of a seriously uncharismatic family. As is usually the way, the troubled father is just boring, the angsty teen seems spoilt and the ghost hunters are background props with absolutely no development of character whatsoever. The little kid is cute though. The amount of clichés are gargantuan with the film including slamming doors, a deceased mother, a child communicating with the spirits, possession, electrical interference and surveillance footage. Of course these are in fact timeless conventions of the supernatural genre, however unfortunately in Apartment 143, they just seem so tried and tested it makes the whole film hysterically boring.

What can you say about found footage films that hasn't already been said more eloquently by more erudite people than myself. In some ways it's a necessary evil, at least within the horror genre itself. I say that because, since this subgenre costs so little to actually make, in some ways this is a refuge for filmmakers who are trying to get their foot in the door so to speak. Perhaps these are people who would never, otherwise, manage to find work due to the horror genre, as a whole, being crowded as shit. Maybe some of these people have gone on to find greater success outside of this very limiting genre. But, like I said, I figure that it is a necessary evil as it opens the door to more horror filmmakers than there would be otherwise. Granted, the likelihood is that with more filmmakers getting in that there's a high probability that a good percentage of them will be absolutely terrible. Maybe one or two will go on to future success and, in some ways, that's probably worth it to some people. Not necessarily to me, but I can see the positives in that scenario. I don't know where Carlens Torrens, director of this film, would honestly fall in that category, since this is his first feature film. To be fair, while this is bad per the regular horror movie standards, it's not necessarily as awful as, say, At the Devil's Door was. Granted, the problem with At The Devil's Door was simply that it was a 45 minute movie stretched out to 90 minutes. This is, barely, 80 minutes long, so it flies by. With that said, I didn't really find this movie to be that good to be perfectly honest. I don't know what it was about it, but this looked even more low-budget than the lowest budgeted horror movie out there. Think about that for a second. And the look isn't anything if the body of the film itself is topnotch, but that's another thing. The film, while short as fuck, is lacking in truly interesting scares to carry you throughout its brief running time. I don't wanna say it's too long, because it's not, but it's just an empty experience, when it comes to horror at least. What it does try is just a really lazy collection of screamers. I think the film, more than just being a horror movie, really tries to be more of a family drama, delving into the dark past of this family to find out just what exactly went wrong that caused such strife between Alan, the father, and Caitlin, his daughter. The film really does concentrate more on that aspect than on anything else. And I guess that's where the strength of the film lies. And I say I guess, because it wasn't really that good to begin with. The acting is fine, Kai Lennox, Alan, was pretty good. Though there was one scene where he was pretty much hamming it up. There's also Michael O'Keefe, who looked like he couldn't give a shit about anything that he was doing in some scenes. It leads to some unintentionally funny moments in how, after everything he's seen, he doesn't react with anything more than abject apathy. It kinda takes away from the some of the more "serious" moments in the film. The ending is also pretty goddamn terrible and predictable. And by ending I mean the last shot of the film, with a really bad jump scare that even a 5-year-old could've seen coming. Not terrible, but still a bad and lazy example of everything that's wrong with the found footage genre. Wouldn't recommend this.

Like all the other found-footage films, this had some pretty good scares... including some minor flaws. But it was very entertaining from start to finish.

*1/2 out of **** The directors of found footage horror films must not think too highly of their audience. There are those who care - MOST of the boys behind this year's rather good found footage anthology "V/H/S" - and those who don't. The latest byproduct of the people who don't to find its way into my poor old television is "Apartment 143", a flick that I knew from the get-go was probably going to be a complete waste of time from the trailers alone, but as always I fucked up and decided to watch it anyways. Do I regret it? As much as I always do when it comes to bad movies, horror especially. It's not the worst of its kind, but when that's literally the best you can say for it, you know you're in trouble. I guess I'll try to say whatever "good" I can about it, but honestly there isn't much going for it in that department. A team of paranormal investigators - they refer to themselves as parapsychologists - is hired by a tenant in an old apartment building by the name of Alan White (Kai Lennox). He lives in the apartment with his teenage daughter Caitlin and young son Benny, and has been experiencing the usual paranormal phenomena (strange noises, shit moving on its own, footsteps from above even though there aren't occupants in the apartments) that would provoke someone to want to call these guys in to do a little investigation. They set up cameras in every room and every hallway, and it doesn't take long for the paranormal activity to begin. The team does a little bit of spirit photography (as some call it) in Caitlin's room and discovers what looks like a woman-like figure lingering in the darkness of the photograph. This, of course, leads them to believe that the poltergeist - if it is one - is a woman. Fair enough. We learn that Alan had a wife who died not too long ago, so it might be her. The film constantly makes an attempt to be some sort of mainstream mind-trip in which we're lead to believe that it is the wife one moment and that it's not another, and then there's some big-shot twist towards the end. This technique doesn't really work in this setting; especially when the filmmaking itself is so poor. I've seen this all before; seemingly endless and bland conversations carried out in between each big scare/scene. It would help to at least be given a few characters that we can give a shit about, but "Apartment 143" gets right down to it; basically meaning that it skips over the proper character introductions and simply lets them do their job. Spending as much time with them as we do becomes more of a chore than anything else. And the dialogue isn't interesting; such a shame that there's so much talking. This really, really hurts the pacing; and the payoff scenes aren't even worth it. Sure, you get some decent effects here and there; but who needs 'em. Director Carles Torrens apparently doesn't understand the element of not putting real actors (or ones we might have seen before depending on what movies we've seen) in found footage horror movies. I'm supposed to sort of buy into this, right? Well, I certainly can't do that with actors like Rick Gonzalaz of "Pulse" and "War of the Worlds" present, now can I? It's a simple mistake and the filmmaker somehow overblows it. What's really sad is that this generic piece of trash was written by Rodrigo Cortez, whose "Buried" was an incredibly tight little minimalist thriller that did a lot with so little. "Apartment 143" sees him sticking to a similar storytelling technique and somehow failing miserably due to the lack of desire in the fields of characters or originality. Like most found footage horror flicks, this one has no ambition. The best idea in the whole thing is a machine used by the team that, for whatever reason, ends up being blurred out on-video. But believe me when I say it's important. This film isn't.
See Details