Endless Love
(1981)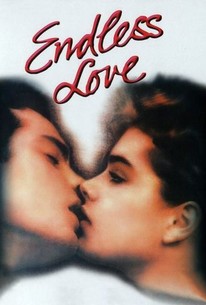 Movie Info
Based on a novel by Scott Spencer, Endless Love details the doomed romance between 17-year-old David (Martin Hewitt) and 15-year-old Jade (Brooke Shields). Banished from Jade's home by her daddy Hugh (Don Murray), David obsessively cooks up a scheme to get back into the family's good graces. Since this plan involves setting Jade's house on fire, one can easily predict that the puppy-love romance is in for a bumpy ride. Jailed for arson, David heads directly to Jade the moment that he's released, with tragic results. Posting respectable earnings thanks to the popularity of Brooke Shields, Endless Love was also the film debut of Tom Cruise, billed 18th in the cast list. A young James Spader lends a supporting role.
News & Interviews for Endless Love
Critic Reviews for Endless Love
Audience Reviews for Endless Love
I guess I must be one of the very few who managed to feel the despair of the character's obsessive love (to the sound of that heartbreaking Lionel Richie song), but sadly after one hour the movie becomes a sappy overplotted soap-opera and doesn't even care to offer us a conclusion.
Carlos Magalhães
Super Reviewer
Bad, but kind of liked it. The scene with Brooke cuddled up with her dad while the romantic song plays is all kinds of wrong, but whole movie is kind of a stretch. Ending was very unclear. I honestly couldn't tell if she went back to him or not. However, it's an 80's movie, albeit not one I ever watched at the time, being about 7 years old when it was released. Brooke was very beautiful and I did like her white dress, although I did wonder if they were actually intending it to look like a wedding dress! I had no idea James Spader was in this. Apparently Tom Cruise is too, although I couldn't pick him (probably a plus!). Very different to the "new" Endless Love movie, though there are similarities, of course. I enjoyed that, so I'm glad about that as it means I don't have to choose which is better.
Nicki Marie
Super Reviewer
Everyone who wants to see this movie does so because of one of the actors. I watched for James Spader, and he was just fabulous. Other than that, this movie wasn't very interesting, and the main characters annoyed me. It's obviously a bad relationship between these two, and it doesn't end well, and a lot of it is boring.
Endless Love Quotes
| | |
| --- | --- |
| David: | I had to see you again. I haven't changed... I love you. |
| | |
| --- | --- |
| David: | (after Anne Butterfield tries to seduce him) I know it's difficult to understand, but I can't make love to anybody but Jade. It's just the way I feel. |
| | |
| --- | --- |
| Anne: | I think that night... that night that I came down and saw you with Jade and then made love to my husband... I was making love to you. |
| | |
| --- | --- |
| Jade: | You know what I keep thinking about? A night in the house. I was a little girl, and then I saw David all alone. And I don't know. I just... I wanted to go to him. Was that wrong? I wasn't a happy little girl anymore. Something changed. The first time in my life I was me. |
| Anne: | Life goes on. We change. |
| Jade: | But it hurts. It hurts so much. |
| Anne: | Oh, Baby, it all happened so fast for you. When you live a lifetime you'll understand it. |
| Jade: | But he loved me. He loves me! No one will ever love me as much. |
| Anne: | Many people will love you. You see. |
| Jade: | But not like that. Not like David. |
Discussion Forum
Discuss Endless Love on our Movie forum!