The Endless Summer
(1966)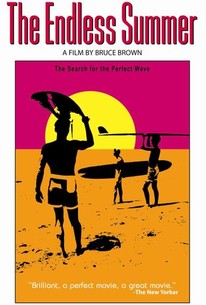 The Endless Summer Photos
Movie Info
While Bruce Brown had been making films about surfing since the late 1950s, The Endless Summer was his first film to receive a nationwide release; it was also the first serious cinematic look at the sport to click with a mass audience. In his narration, Brown muses that if someone had enough time and money, they could literally follow the summer around the globe, and so Brown and two of his surfing buddies, Robert August and Mike Hynson, decide to do just that. With their surfboards as luggage, August and Hynson travel from one coastline to the next, trying the waves in Hawaii, Africa, Australia, Tahiti, and a number of other places where most folks had never even seen a surfboard before. Along the way, August and Hynson learn a lot about people around the world, and grow up a bit while they search for the elusive perfect wave. The Endless Summer also features a great surf-rock score by the Sandals.
News & Interviews for The Endless Summer
Critic Reviews for The Endless Summer
Audience Reviews for The Endless Summer
"The Endless Summer" is a great movie to watch when you just want to relax and see a good movie. It's about a couple of surfers who go around the world trying to find the perfect wave. You'll see them travel to many places while they try to find the best surfing spots the world has to offer. Really, the movie's not completely about surfing, it's about being young and free and just enjoying yourself. I've been to the ocean several times, but I've never really tried to surf, but I really liked this movie. The scenery and photography is done as well as it could've been and the storyline is interesting and it will keep you watching the whole time without you getting bored any. I recommend anybody to get "The Endless Summer." NOTE: That was my Amazon review from the year 2000.
Jason Owens
Super Reviewer
The Endless Summer Quotes
There are no approved quotes yet for this movie.