Equinox Flower
(1958)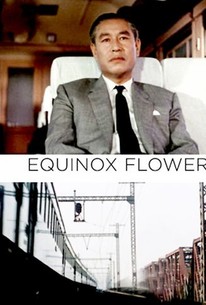 Movie Info
In this film, a young girl impulsively decides to marry. The girl's father had always expected that his daughter would ask his permission to be wed and wait until he'd chosen her husband for her. Dad's anger at not having been consulted is played out in long, uninterrupted takes.
News & Interviews for Equinox Flower
Critic Reviews for Equinox Flower
Audience Reviews for Equinox Flower
Ozu proves that he can produce something sentimental without being overly syrupy. it isn't a deep story but rather a cute one that is very well executed.
John Ballantine
Super Reviewer
½
Equinox Flower was Ozu's first color film. He was reluctant to do it, but he shouldn't have been. He handles the addition so well. The colors really do join every scene together. Equinox Flower deals with one father's hypocritical view of love and marriage. It begins at a wedding where Hirayama makes a speech to his friend's daughter. He says how lucky they are to be able to choose their own partner. He does this in front of his wife in a very awkward moment. Hirayama and Kiyoko's relationship is interesting. They make their marriage work, even if there wasn't love there at first. They work together and never feel that they are trapped in this relationship. Despite his new world views during this wedding, once his daughter announces she wishes to marry a man, Hirayama is opposed. His hypocritical views are the cause of much comedy. He is also forced to face his prejudices as he finds a daughter of an old friend who has run away to be with her struggling musician boyfriend. Hirayama is supportive of everyone but his own daughter. Again though, with Ozu's eloquence, Hirayama is not a villain. It is understandable that he has different views concerning his own daughter. A group of men sit around and discuss the differences between sons and daughters. The growth of the whole family is well plotted and emotional. It's another wonderful and gentle deconstruction of Japanese family values.
Luke Baldock
Super Reviewer
ozu's first color film not only brought an insurgence of popping colors and lights into his art direction, but it brought a new wave of thinking as well. ozu's work up until this point had been more focused on traditional japanese family values and the younger generations responsibility to their elders. in this film we see a shift in ozu's thinking where he engages in the more emerging and progressive cultural leanings of allowing more freedom and respect to younger people. although many people grow harder as they get older including some of the characters in this film, ozu himself softens and portrays the family in ways he hadnt done until now. in the same way ozu had resisted color in film until this movie, and then he used color vibrantly to the fullest of its potential. the film itself started far too slow, but it picked up and ended well and deserves an added measure of respect because of what it meant for ozu's career. a great film.
Equinox Flower Quotes
There are no approved quotes yet for this movie.