Ernest in the Army
(1998)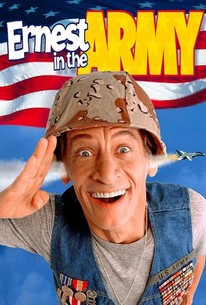 Ernest in the Army Photos
Movie Info
The U.S. Army's most unlikely soldier, Ernest P. Worrel (Jim Varney), finds himself responsible for saving the world when he and his troopmates are sent out to take down a tyrant. As with other entries in the Ernest series, this one is filled with plenty of low-brow, slapstick humor.
Audience Reviews for Ernest in the Army
In Ernest's final adventure he takes off to be all that he can be in Ernest in the Army. Looking for a change Ernest P. Worrell joins the Army Reserve, but shortly thereafter his unit is sent to the Middle East to stop a mad tyrant who's developed a pluton bomb. Varney is clearly phoning in his performance, and no one else seems to be putting forth much effort either. And there are very few laughs to be had (if any), as the comedy falls flat. Incredibly dull and monotonous, Ernest in the Army is one of the worst films in the series.
Dann Michalski
Super Reviewer
I'm just a big Ernest fan. A select few people that I've noticed have hoped that 'Ernest' dies or something else bad and I don't want to be in their shoes. Saying those things is downright pathetic and low. I love all the Ernest movies. I watch them because Jim Varney is the star. Would I watch them if he wasn't on them? Probably not. Varney lends a warmth and a child-like innocence that no one else will ever duplicate. He was genuine and caring. I can't help but be drawn to him. This was the last Ernest movie. Varney passed away just before finishing 'Ernest the Pirate". I wish they could find a way to finish it so I could see it. I don't watch "Ernest in the Army" as much as 'Ernest Goes to Camp", "Ernest Goes to Jail", "Ernest Saves Christmas", "Ernest Greatest Hits I and II", "Hey Vern! It's Ernest" or "Hey Vern! It's my famliy album". I can understand why Jim had once said that he wanted to shift from the Ernest character to something more dramatic. Maybe Cherry and Carden tried too hard to suck the life right out of Ernest. Maybe they needed a fresh mind to write more Ernest movies. I would've loved to have done that. Sadly, that will never happen since Varney passed away in 2000. This movie gets 5/5 because I just love Varney.
Stacy Avary
Super Reviewer
I've seen just about all the Ernest movies, and I have to say that "Ernest In The Army" is definitely the funniest one that I've seen so far. Ernest gets enrolled in the army without going through boot camp, he's supposed to just be a driver and one that just hangs around in the Army, but it turns out that he has to take a part in a battle and he goes on a rescue mission. Just about all of Ernest's (Jim Varney) antics in this movie are hilarious, such as the hospital incident and when Ernest tries to cook pancakes with some unusual ingredients. This is one of the funniest movies I've ever seen. If you like some of the other Ernest movies or if you like hilarious comedies, I definitely recommend getting "Ernest In The Army." Ernest really shows that he was meant to be in the army when it comes to comedy. NOTE: That was my Amazon review from the year 2000. Sad that Jim Varney's dead now and has been for awhile. This was the best Ernest movie of them all to me!
Jason Owens
Super Reviewer
Ernest in the Army Quotes
There are no approved quotes yet for this movie.
Discussion Forum
Discuss Ernest in the Army on our Movie forum!