Eulogy
(2004)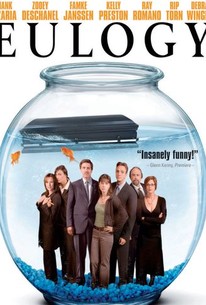 Movie Info
Writer/director Michael Clancy makes his feature film debut with the black comedy Eulogy. Zooey Deschanel plays Kate Collins, an unhappy college student who is made even more unhappy when her grandfather (Rip Torn) dies. Even though the entire family hates each other, they reunite at the home of Grandma Collins (Piper Laurie). Among other family members, Kate observes a war between her washed-up actor dad, Daniel (Hank Azaria); her lesbian Aunt Lucy (Kelly Preston); her wound-up Uncle Skip (Ray Romano); and her strict Aunt Alice (Debra Winger). Tensions escalate and family secrets are ultimately revealed. Kate is also inundated with the eulogy-writing duties, as she's the only one capable of such a task. Meanwhile, she reunites with old flame Ryan Carmichael (Jesse Bradford). Eulogy premiered at the Sundance Film Festival in 2004.
People Who Like this movie also like
News & Interviews for Eulogy
Critic Reviews for Eulogy
Audience Reviews for Eulogy
A dysfunctional family gathers for the patriarch's funeral. With the characters' convoluted plotlines, even a trite voice over and an awkward framing narrative can't save this film. By the time I figured out who wanted what, who was related in to whom, and what the histories of all of these relationships were, I realized I didn't care about this people and they didn't care about each other. I liked Zooey Deschanel's performance; she seemed at home in the awkwardness, realizing that understatement is key to this kind of comedy. Ray Romano's goofy mustache makes it impossible to take him seriously even in his more dramatic scenes. Overall, this dramedy isn't a waste of time, but it's close.
Jim Hunter
Super Reviewer
Eulogy is one bizarre comedy that brings a lot of laughs. When the patriarch of a dysfunctional family passes on, his family gets together in the same house the funeral and all hell breaks loose. With Eulogy you have a wonderful cast that are all funny in their own way. Eulogy is one of the most original comedies to come along in a while. Eulogy has a terrific cast of well known actors such as Hank Azaria (The Simpsons) and Ray Romano (Everybody loves Raymond) Eulogy takes a sad event and makes it funny. Very funny in fact. This is actually one wacked out comedy film, and I enjoyed every minute of it. The cast did a great job and the story was just so much fun, a dysfunctional family are forced to be together to bury their father and grandfather. What could go wrong? well, everything. it's such a hilarious ride that you can't get bored. At times the film is uneven, but considering the cast involved, Eulogy is a terrific comedy that has more highs than lows. The jokes are great and theres plenty of good scenes. One things for sure, the family in the film have a strange way of being bereaved. I really enjoyed the film because it was a different type of comedy, and one that was very refreshing. Every cast member brought something great on screen, and the laughs kept coming one after another. If you haven't seen this comedy, you should. This film is very good and is much better than most mainstream comedies out there.
Totally cute. Kind of weird when Zooey, known for her quirky roles, was the normal one in this. I thought it was funny and dark. Very offbeat but loveable.
Leigh Ryan
Super Reviewer
Eulogy Quotes
There are no approved quotes yet for this movie.