Eulogy for a Vampire
(2009)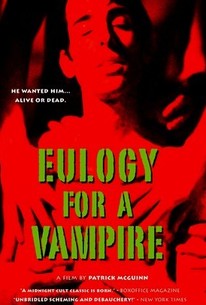 Eulogy for a Vampire Photos
Movie Info
A remote rural monastery inhabited by the monks of the mysterious Order of Pathicus is the site of a heinous murder, committed by a young novice, Anthony, upon another young novice, Florian, when his affections and sexual desires are not reciprocated. Flash forward 25 years -- Father Anthony, now the head priest of the monastery, has maintained the secret of the murder, and the hiding place of Florian's corpse. But, all is not well: animal eviscerations, strange sounds in the night, and the presence of a strange "phantom goat" in the dark corridors forebode an evil presence. Add to this, the handsome young drifter, Sebastian who is found unconscious near the monastery.
Critic Reviews for Eulogy for a Vampire
Audience Reviews for Eulogy for a Vampire
Really, really, really bad film making. The film is of a poor quality rarely seen. The director does not seem to realize that a scene can change without requiring an establishing shot -- actually, virtually the same establishing shot every time, showing the steeple of a church -- which is completely unnecessary because the ENTIRE STORY happens in the same monastery, so no one in the audience is likely to be asking, "Where are they now?" The makeup and special effects (i.e., "blood") look like things my sister and I did at Halloween when we were 10 years old. The acting? -- someone really raised the dead to cast this horror flick! Nevertheless, the story was slightly coherent and diverting, saving the film from a 1/2 star rating.
Christian C
Super Reviewer
Eulogy for a Vampire Quotes
There are no approved quotes yet for this movie.