Evangelion: 3.0 You Can (Not) Redo
(2014)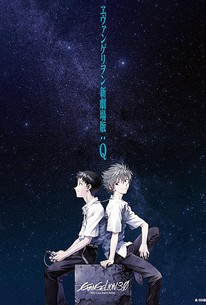 AUDIENCE SCORE
Critic Consensus: No consensus yet.
Evangelion: 3.0 You Can (Not) Redo Videos
Evangelion: 3.0 You Can (Not) Redo Photos
Movie Info
Shinji Ikari just woke up fourteen years after starting the Third Impact. He hasn't aged, but everything else has changed. The earth is in ruins. The people he once protected treat him like a prisoner and threaten to kill him if he pilots another Eva. At NERV headquarters, Shinji meets pianist Kaworu. As the boys bond, the organization's true mission comes into focus. Lost in a labyrinth of deception, Shinji careens toward a mental breakdown that could bring about the end of humanity. (c) Eleven Arts
Rating:
NR
Genre:
, , ,
Directed By:
Written By:
In Theaters:
Runtime:
Studio:
Critic Reviews for Evangelion: 3.0 You Can (Not) Redo
Audience Reviews for Evangelion: 3.0 You Can (Not) Redo
Takes everything the first two films setup, and completely throws them away for a confusing and contrived plot that asks more questions than it can answer. Hopefully when Evangelion 3.0+1.0 comes out it wont be as disappointing.
chris montoya
½
Evangelion: 3.33 You Can (Not) Redo picks up 14 years after where 2.22 left off. Shinji has just awakened from a 14 year sleep inside Eva Unit 01 and the world he once knew and protected has been eradicated, merely rubble with only a handful of people still alive on it. Misato and Ritsuko have abandoned NERV and formed a group dedicated to NERVs destruction, Willie that's primary base is a flying ship called AAA Wunder that is powered by Unit 01's core. They have taken most of the old staff and have new members we briefly meet as well and it appears as though Gendo Ikari and Fuyutsuki along with the EVA pilots are all that remains of a shattered and empty NERV Headquarters. Misato and her group Willie all resent Shinji as he unknowingly brought about the Third Impact and the destruction of the world as it once was. Rei quickly comes to his rescue and after a fierce battle between her and the pilots Asuka and Mari, is able to rescue Shinji from their captivity but Misato refuses to kill Shinji in the short time frame that she has the opportunity to kill him with a collar that can remotely destruct. At the dilapidated NERV HQ Shinji's destined meeting with the new EVA pilot Kaworu, who is a gifted pianist and more importantly a friend to Shinji at a time everyone else is distant towards him. He gives Shinji the will to carry on and pilot the newly designed EVA that requires two pilots, with Kaworu for Shinji to rely on, the two set out to change mankind's fate. While the first two films stayed quite similar to the series original story arc, this third theatrical releases is a completely alternate take and is nothing like the first two films or the series whatsoever. While the original series was both groundbreaking and a profoundly moving artistic vision come to life, a rebuild could go one of three ways. It can be a near replicate of the original with some better effects or grander scale, A new take that ruins the integrity of the original series, or something that is new or alternates that is different but still well executed. What we get in this film, unlike the previous two that were both slightly different but overall just an updated version, is a strikingly beautiful film that is severely muddled in it's ability to tell or convey to the viewer any understandable or meaningful plot points. Where the first two stayed closer to the series story and plot elements, it's the fact that Evangelion: 3.33 You Can (Not) Redo tries to convey an entirely new story arc with a load of new characters and factions as well as many other elements and it does very little in the way of explaining any of this to the viewer. This leaves you feeling completely overwhelmed with visual events and new elements playing out but you have no background or explanation for it's being or purpose, it's origins are completely unknown. While I don't need everything hand fed to me, this technique simply leaves you not knowing how to feel or view anything with great emotional resonance.
Chris Browning
Super Reviewer
I really wanted to love Eva 3.33. Let's make it clear that I really, really wanted to love Eva 3. Hell, I've been a fan of the original Eva TV show from the 90's. Back when ADV was releasing them on VHS for $25 a pop. I know more about Eva than most people would care to. It's a show that I grew up with. I related to the characters, who now have a very special place in my heart. Not to mention the phenomenal art direction and character design (Yoshiyuki Sadamoto is a god! lol). So, I cannot be accused of simply "not being a fan" here. But, I just cant keep quiet, I have to tell the word how absolutely terrible Eva 3 turned out to be. Let's get the biggest accusation out of the way: "it's because Shinji's gay right? You goddamn homophobe!" Actually, no. By the end of Eva 3, I didn't care if Shinji was gay, bi-curious, lesbian, or dressed in a full on panda costume. He could have been turned into a female doppleganger for all I cared. It's really that bad. Eva 3 begins by kicking you, unknowingly, 15 years into the future of the Eva storyline. This no-doubt raises a lot of questions. Shinji, and the viewer, wake up to a completely changed world in which, apparently, NO ONE HAS TIME TO EXPLAIN ANYTHING OF IT. Misato and (scary scientist) Ritsuko are here, but so are a slew of new characters! Who are they? Where did they come from? What's up with NERV? And, more importantly, what side are they on now?? The film is not shy to simply thumb it's nose at you and say "Oh, you wanted an explanation to any of this? TOO BAD 4's YOU!" Everyone treats Shin poorly, so of course he leaves to the (telepathic?) sound of Rei's voice, especially without being given any answers from anyone. Wouldn't you? So he ends up in the company of Rei, Kaowru, and that asshole Gendo. But again, NO ANSWERS are to be given here either. Gendo says about 2 lines to the effect of "Get in the effin' robot" (again) and then leaves (again) only this time with stupider sunglasses. So, Shin gets stuffed in another sterile box, presumably until the "effin robot" is done getting dressed or whatever. But again, this isn't explained either, so all we can do is guess. The viewer has to do this a lot, guessing, because Eva 3 is so good at NOT EXPLAINING ANYTHING, you can't help but feel completely lost. What happened to all of the characters, storyline, pacing, and character development from the previous 2 films? At the end of Eva 2.22's cliffhanger we were set and primed for something BIG to happen. Something with the bigness of biblical proportions! ....Well SOMETHING big did happen, but Eva 3 fails to say WHAT THAT WAS. The film lavishly wastes time on Shin and Kaowru's piano practice, when it could be, oh, I dunno EXPLAINING valuable PLOT MAYBE? Instead, we are given immensely detailed CGI of the inner workings of a piano, and rotoscoped animation of said piano being played. Complete with abstractly drawn horses running gayly through the air. REALLY GUISE?! REALLY? So much time is wasted with filler and fluff, that when the important questions of the story are finally acknowledged, it is presented in vague and cloudy double-speak that only serves to confuse the viewer even more. Why is everyone wearing blue armbands? What's with all the red things? Why are there giant teeth in the ground? Why the hell is a giant white titan frozen on a pile of skulls?? While this trope is nothing new to Eva, it is especially glaring here. When plot information is so absolutely crucial, and you are with Shinji dying for answers, the script comes up short. Not to mention Rei. The eternal Goddess of Eva's storyline, and character of obsession for most of the show's Japanese fans. Well, now her character's been subject to a lobotomy, and she spends the entirety of this movie in derpy-mode with her thumb up her nose. Rei had been given more character development in the previous 2 films, than in the entirety of Eva's preceding TV show put together. Making all of the emotional character development from the past 2 films worth absolutely nothing. Again, this movie completely destroys your expectations. So after Kowru and Shin get friendly, Kowru drops the bomb. He says "Hey Shin, you should pilot the robot with me now that we're friends! WE KAN FIX TEH WERLD! Nevermind that Gendo's in charge of this whole operation, I'm sure we can all trust him this time! He's such a great guy right? He'd never do you wrong right? Just do it kay buddy?" and Shinji's all like "Meh very first friend! Me so happy! Of course I will!"..... Really? Are we all really so dumb as to believe this? Shin doesn't even question his new ENEXPLAINED MISSION? There's nothing fishy about this? Of course there is. And as you could guess, EVERYTHING GOES TO SHIT AGAIN. Kowru's head pops (cuz, ya'know, he died in the TV show, so it had to happen again, right?) just to have Shin make sad face. Yet again. Of course, being on the opposing side now, Asuka and Mari try to stop him. But Asuka is all mad for reasons unknown, and Mari is too lazy to be on time for anything, while doing her best being-so-smug-it-hurts, Haruhara Haruko impresions from FLCL, EVERYTIME she's on screen. But not before Impact 3.5, or 4 (or whatever) is halted, again.. Soo tee-hee guys, jay-kayy, again! Sorry, not-sorry! Everyone falls out of they're Eva units, now led by Asuka who straps backpacks to everyone, and they all walk off happily into the sunset, ROLL CREDITS, THE END. REALLY!? Gainax, Studio Khara and Hideaki Anno successfully slapped me in the face, before walking off to the bank. Especially after I was resolute about staying pure to my western dubbed Eva stories (dumb, I know). I refused to torrent or watch Eva 3 subtitled online before it's official US BluRay release. I waited 4 long years to see Eva 3, all the while, so, so hyped after the greatness that was 1.11 and 2.22. Other reviews cannot fool me into believing the "it's a transcending artform dude!" excuse anymore. We exhausted that pardon after the original "End of Evangelion" movie came out in 1997. That simply cannot make up for storyline writing that's worse than 70's porn, and an absolute lack of DIRECTION.
Nick Lopez
Evangelion: 3.0 You Can (Not) Redo Quotes
There are no approved quotes yet for this movie.