Everything, Everything
(2017)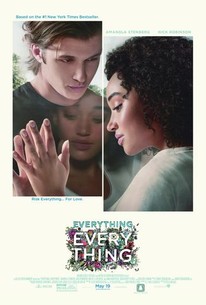 TOMATOMETER
AUDIENCE SCORE
Critic Consensus: Everything, Everything should tug young adult heartstrings fairly effectively, but may not be quite engrossing enough to woo less melodramatically inclined viewers.
Everything, Everything Videos
Everything, Everything Photos
Movie Info
A teenage girl (Amandla Stenberg) is unable to leave her home because she has an immunodeficiency that makes her allergic to almost everything. However, her life changes for the better when she begins to communicate with the boy next door (Nick Robinson). Everything, Everything was directed by Stella Meghie, and was adapted from the YA novel of the same name by Nicola Yoon.
News & Interviews for Everything, Everything
Critic Reviews for Everything, Everything
Audience Reviews for Everything, Everything
Nice movie. Didn't see that twist coming either.
Nicki Marie
Super Reviewer
Many Romance films struggle to know the balance between cheesy and believable. It really doesn't matter how you make yourself stand out in terms of creativity, because if you can't believe in the movie itself, then it fails as a whole. Everything, Everything is the type of movie that bugs me from start to finish, due to the fact that everything about it seems polished and dumbed down for a specific audience. Yes, there are some very creative aspects, which I will get into, but the movie itself suffers from being too unbelievable. Adapted from a novel in which I have not had the chance to read, this is strictly a review of the film itself. Here is why Everything, Everything probably doesn't deserve your time. Due to an illness, Maddy has spent her entire life inside her mother's home, never once seeing the outside world. As new neighbours move in next door, a boy her age grabs her attention. Figuring out ways to communicate with each other, this is easily where the most enjoyable aspect comes into play. I found myself intrigued throughout the various ways of storytelling that were presented throughout this movie, but the film itself falls apart by everything else around them feeling fake. What I mean by this, is the fact that every supporting cast member feels forced in order to give each of the leads a tragic backstory. Never once did I feel as though I was watching something realistic, which was clearly what they were going for. As this film approaches its second act, revealing new things about everyone, I found myself growing a very strong hatred toward the mother (as a character), mainly because she was rude, cruel, and her intentions were never truly clear until the final few moments of the film. At first, Everything, Everything makes you believe you're watching one kind of movie, only to take a sort of dark turn that comes out of left field. In an offbeat Romance like this, I don't want to find myself hating characters, because that will take away from the fact that you're supposed to be enjoying this relationship unfold on-screen. After my viewing, the biggest takeaway and positive that I can offer Everything, Everything is the pairing of Nick Robinson and Amanda Stenberg. Sure, their relationship follows the tropes that many films based on young adult novels do nowadays, but their chemistry was definitely present. As a whole I really don't like this movie, but I was enjoying myself when these two were on-screen together. If not for anything else, these two have a bright future ahead of them. Nick Robinson has already shown some of his stardom in films like Jurassic World and Amanda Stenberg had her big start in The Hunger Games, but neither of them really showcased their true talent until now, at least in my opinion. In the end, this is a film that probably has a far better novelization that what is presented on-screen as a final product, but Everything, Everything does absolutely everything to make you wish for some better substance. Never once did I buy the circumstances that she went through, due to the fact that this film has a sort of cruel conclusion in my opinion. I really didn't like my experience watching this movie, and quite honestly, only those who don't mind a little schmaltz will find a bit of enjoyment here. I can't get myself to recommend this movie to anyone, but it's not a complete disaster. The leads are well-cast and the storytelling elements are unique enough to keep you engaged, but the movie doesn't really do anything special to make you care. Everything, Everything is a waste of a premise.
For a film about an unforgettable romance the worst crime Everything, Everything commits is not exactly searing itself into the minds of viewers as such. Everything, Everything is a fine enough teen love story, but it is also a very slight love story-never allowing us to become invested in the characters or passionate enough about their plight as it seems we should. Moreover, the film does this to itself as it very well could have allowed more time and dedicated more of that time to developing why our two leads do indeed fall head over heels for another. Alas, at only ninety-six minutes Everything, Everything only has so much space to divulge the complexities of our greatest of virtues. That isn't to say the film doesn't make good use of the time it does spend on our star-crossed lovers, but only that we get to the inevitable rather abruptly (which might otherwise be admired) leaving the remainder of the film and the risks these characters take for one another seem all the more drastic and irresponsible which is the last thing you want when your movie positions the kids as the heroes who are smarter than the adults that surround them. The point being, as with everything, ones reaction to Everything, Everything will largely depend on the stage of life that viewer is currently experiencing when taking it in. Being a young parent, but someone who still feels at least slightly in touch with youth/popular culture Everything, Everything played with my sympathies toward the conundrum our characters face while at the same time appreciating that were this to actually occur in the real world the parents would be more rational and the stakes nowhere near as dire. Young love wants to feel a little dangerous though, a little forbidden, and slightly scary-it is what gives it that rush of excitement and uncertainty; it is what makes it all that more memorable in hindsight and it is in these details, in the minutiae of such times, that Everything, Everything actually finds its success. Director Stella Maghie and the screenplay from J. Mills Goodloe (Age of Adaline) that was of course adapted from the New York Times Bestseller by Nicola Yoon doesn't so much let her film stand on the shoulders of grand gestures or dramatic speeches, but more in the small, precise details of what makes love worth living for when you're young and want nothing more than to feel indestructible. This focus on precise over big moments allows much of the underdevelopment and lack of any real arc to (mostly) be forgiven come the end of the movie. Still, you won't remember much of it the next day. read the whole review at www.reviewsfromabed.com
Philip Price
Super Reviewer
Everything, Everything Quotes
There are no approved quotes yet for this movie.
Discussion Forum
Discuss Everything, Everything on our Movie forum!