Everything Strange and New
(2011)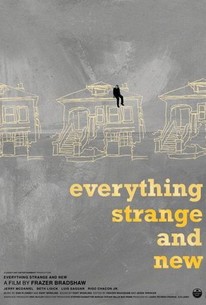 Everything Strange and New Photos
Movie Info
Already bent by the demands of his home life - fatherhood, a faltering marriage, and a submerged mortgage - a tradesman struggles to balance his own appetites and expectations with those of a friend in need. "Everything Strange and New" is an intimate portrait of ordinary people and their longing for certainty in uncertain times.Wayne is a carpenter, no longer young but uneasy with the emotional complexities of adulthood. Aimless hours spent with Leo, his newly-divorced drinking buddy, offer some relief to the heavy gravity at home, where his kids run roughshod over his increasingly unstable wife. Living between these worlds leaves Wayne feeling like a character in someone else's story. Ultimately, a violent spasm rouses him from this fevered American dream. -- (C) Official Site
Critic Reviews for Everything Strange and New
Audience Reviews for Everything Strange and New
If you have the patience for this film, you may find it rewarding on a gut level. This 2011 Independent Spirit Award nominee for Best First Feature tells the story of a carpenter who is having an existential crisis spurned by a crumbling marriage, a mid-life crisis, and good friends who just beneath the surface are suffering alongside him. Director and DP Frazer Bradshaw prefers long, meandering takes, diary entry voiceovers from our main character are woven into shots of cityscapes. Here, he seems to be telling us, is a man seeing the overly familiar for the first time. Played for its entirety in a flat monotone style, Jerry McDaniel captures a quiet patient man who is raging inside, and I was strangely captivated. It's easy to dismiss this film as a huge bore, and I wouldn't blame anyone for thinking that, but I connected with its truths. One major misstep is that McDaniel is often seen moping through certain scenes in a clown costume like a Deadpan Chaplin. These "fantasy" moments are clearly meant to show us his internal anguish, but I think we got that just fine without it. Another repeated motif is having various couples in the film posing for family photos, waiting endlessly for that camera click. This is much more effective than all the clown crap! Bradshaw also uses the camera well and understands the beauty in the mundane. I liked his compositions of dirty dishes piling up, of the long-suffering, possibly bi-polar wife "dutifully" preparing a meal or going down on her husband. The late in the game revelations that came with McDaniel's friends were also movingly played and quite sad. Here is a film which captures the prison of masculinity society can enforce upon its men. It almost feels like a companion piece to Sofia Coppola's SOMEWHERE. Definitely not a film for impatient, Michael Bay fans, but rewarding for those who find themselves questioning their lots in life.
Glenn Gaylord
Super Reviewer
Everything Strange and New Quotes
There are no approved quotes yet for this movie.