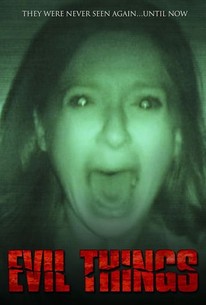 Evil Things
2009, Horror, 1h 34m
0 Reviews
100+ Ratings
Rate And Review
Movie Info
Five college students go to the country, then vanish.
There are no critic reviews yet for Evil Things. Keep checking Rotten Tomatoes for updates!
Audience Reviews for Evil Things
If Evil Things was suppose to scare the s#*t out of me then it did it's job.I thought the Evil Things were going to be some monsters in the woods, Not some psychopath in a van.I HATE horror flicks that are way to close to reality & could actually happen.That's the reason why I only watch The Paranormal Activity movies 1 time & that's the reason why I only gave this movie 1 star

Evil Things villain had evil plans and the setup and premise was unsettling and not forced but took its time delivering a pinch of jolts and the fact that it doesn't ever show these twisted psychopath or psychopaths was unnerving. The movie's downfall is that nothing much happens to make it as a whole terrifying or deliver any true scares but just a bunch of confused and scared young adults running and driving helplessly until they meet their demise with no payoff or explaination which is a all too common theme with the found footage horror movies and this one just doesn't have any action at all or much of a concrete script or story but just an chilling idea that could of resolved in a more effective way, it didn't come off as authentic at all. The acting wasn't bad per say and they have believable chemistry among eachother but they had nothing to work with at all but just walk and drive around and small talk and act scared and the fact that none of the characters had much of a backstory didn't help matters either. The filming of the raw atmosphere is what helped the film lose a lower rating from me but everything else just didn't gel together in an interesting way and most of the time it's like watching some strangers boring home videos. Overall it's like Five Across The Eyes meets Them in the most ho hum way. Skip it!

There's a problem with Evil Things: It's not scary. Even though it was done on a small budget, something could have happened to make Evil Things feel like a horror movie. Evil Things starts slowly and keeps going at a tediously slow pace. They seem to think a van driving like an idiot is scary. Where doesn't that happen? Without any real build to being a scary movie, the end is totally ineffective, and has the audience to the point where they're just ready to be done with the movie. They tried to take a bunch of scenes from other "found footage" movies, including putting the group in the woods ala Blair Witch, but it's done poorly and is just another way to stretch things out. There is exactly one scene that may freak you out, but it's blunted by no follow-through and a flat ending. We didn't get to see most of the murders, or the end result of said killings, and it all happened within a couple of minutes. The actors are inexperienced, but they're also working with nothing. Who knows how well they could have done. Most of them did OK for the found footage type film. Dominic Perez is the writer/director/producer. He hasn't done anything before or since. No surprise there. There's no reason at all to watch Evil Things, unless you like horror movies without the scares.
See Details