Evil Ed
(1997)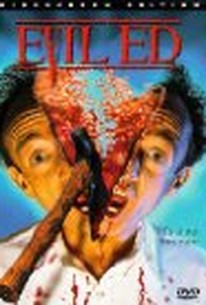 AUDIENCE SCORE
Critic Consensus: No consensus yet.
Movie Info
What do you get when you combine a European art film with an American slasher pic? You get this Swedish parody that centers on milque-toast film editor Edward Svensson who is busily working on an arty new European 18th-century costume epic filmed ala Ingmar Bergman in indistinct black and white. Edward leads an orderly life and doesn't mind editing this nearly actionless film. Then his employer orders to have him edit a gory series of slice-n-dicers, Loose Limbs-I-IV. With such an endless onslaught of graphic, senseless violence, degradation, and cheesy sex unspooling before him, Edward begins undergoing a few disturbing changes and when he finally emerges from the summer cottage where he has been working he is psychotic-mutilator-of-nubile-women-and-anyone-else-who-moves Evil Ed. Those with weak stomachs may want to pass on this graphically violent comedy. ~ Sandra Brennan, Rovi
Rating:
R
Genre:
,
Directed By:
In Theaters:
On DVD:
Runtime:
Audience Reviews for Evil Ed
A thoroughly enjoyable gore flick that I'd somehow missed during the '90s, but recently discovered on DVD courtesy of a local pawn shop. Well worth tracking down, give it a rental.
Bill Bryant
This movie is great for people who love to watch horror movies nonstop around Halloween or any time as a matter of fact. If this is you than you'll really be able to appreciate this Swedish film. "Evil Ed" is a flick about Ed the editor who has been promoted to the horror and slasher movie department. Now he spends his time cutting footage of gory horror films to appease the censors. However, he's a nice and simple man, and all of the exposure to these horror elements is driving him completely insane. The overexposure ultimately leads to him having horrible hallucinations such as a loaf of bread turning into a human arm, along with the devil coming and offering a race to hell. But one of the best parts is when the puppet flips off Ed. This is a very odd movie, to say the least. Some of the best parts come from the movies that we only hear, but don't actually get a chance to see. My all time favorite line from these movies is "Where in the fuck is my beaver rape scene"? I can only imagine what could be happening on the screen. The boss is my favorite character though, he's crazy. Although its a great spoof of the genre and definitely worth a watch around Halloween. Definitely falls into cult status.
Chad Halsman
You know those films that are blatantly awful but you can't help but love them? Well that's what Evil Ed is, possibly the best awful film in the world. The sound is rubbish, the dubbing is crap, the screenplay is nonsense and the special effects are pap. However, I can't help but love this film dearly and I have recommended it to at least 50 people over the years. Sam Campbell (or the guy who plays him) should be featured on the Actor's Studio series as he is that memorable. Possibly the greatest movie villain not named Tony Montana. Seriously, if you don't expect a lot then you won't be disappointed. Keep a light-hearted approach to watching this film and you'll soon rate it a ten afterwards.
Cassandra Maples
Super Reviewer
Evil Ed Quotes
There are no approved quotes yet for this movie.