Evilenko
(2004)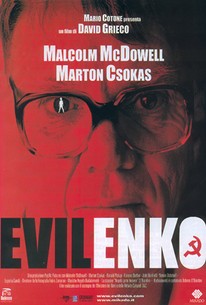 AUDIENCE SCORE
Critic Consensus: No consensus yet.
Movie Info
The psychological thriller Evilenko tells the story of arguably the most infamous serial killer in the history of the Soviet Union. Malcolm McDowell portrays Andrei Evilenko, a man responsibly for the deaths of about 50 kids. An intrepid cop and a gifted psychological profiler team up to try and stop him.
Critic Reviews for Evilenko
Audience Reviews for Evilenko
MisterYoda ?
Super Reviewer
½
Fact-based drama about a serial-killing paedophile cannibal who murdered 55 young women and children in the Ukraine and Russia during the Soviet ruled years of the 80s. Given the grim nature of the story there are some really uncomfortable scenes to sit though even though it's not that violently graphic. Malcolm McDowell was ok as Andrei Evilenko the killer (real name Andrei Chikatilo), at times he came across a bit pantomimish, but also delivers some chilling moments. The whole hypnotism angle was a bit silly too, I wish that wasn't thrown in. It's a far from great film but it has its moments of interest, and paedophile themed movies don't come along too often, so if you feel you can handle it check it out.
½
Want to watch again before I give a full review. Simply put, the first half of the movie is shocking, tense, and engaging. The second half, however, is terribly slow and suffers from a groan-inducing plot setup (that gets run three times!) where: Cikatilo almost kills, an officer gets close and almost catches him but doesn't, but Cikatilo aborts the kill to dodge or attend to the detective. Once Cikatilo (in this film he is called Evilenko, which is probably wise considering the decision to give him "special power" to hypnotize his victims) is finally caught, the film resumes its brilliant bleak creepiness. Malcom McDowell is also completely genius in the whole film. "Most Fucked Up" Highlight: might not be my final pick after I screen again but for now, the interrogation scene
_kelly .King
Super Reviewer
Evilenko Quotes
There are no approved quotes yet for this movie.