Evita
(1996)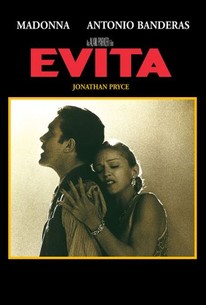 Movie Info
As told by the story-teller Che, Eva Peron was born Eva Duarte, the illegitimate daughter of a penniless farmer. Still a teenager, Eva attaches herself to a popular tango singer, Agustin Magaldi and accompanies him to the Big City: Buenos Aires. Ambitious to succeed, Eva becomes an aspiring radio and film actress, eventually moving into influential circles within Buenos Aires society. Once her name is linked with the rising politician Juan Peron, tongues begin to wag, but the couple marry and Peron is elected President with the inspirational Eva at his side. Eva establishes herself as an ardent supporter of Peronism and promotes her unique blend of democracy with her "Rainbow Tour" to Europe. Attracting attention like no other woman before or since, Eva Peron hypnotized a nation of eighteen million people for seven years before her untimely death at the age of 33 in 1952.
People Who Like this movie also like
Audience Reviews for Evita
½
Even though the protagonist is a flawed, intriguing demagogue, this visually stunning but tiresome (and oversung) musical makes it hard for us to care, given how insufferable most of the songs are (except for two or three), like nearly everything made by Andrew Lloyd Webber.
Carlos Magalhães
Super Reviewer
½
This film includes the largest amount of costume changes in history, so you already know it's lavish. Taking all the leather and lace away from this production, you're left with no plot, all music, and two hours of watching Madonna spiral into an abysmal performance. Eva Peron, Evita to her people, deserved a bit more of a bang for her buck.
Spencer S.
Super Reviewer
½
Haha! Antonio Banderas' part was the best bit. I think his kind of phantom character/ narrator role was very good and witty. And I thought Madonna did a fantastic job, too bad she hasn't done that since with acting. With a more analytical look, I thought it interesting the two (technically) main characters were white, Madonna and Pryce. But in Madonna's defense, she can sing and dance really well and pulled off the look very well. The biggest thing that grated on me what the full on opera-style musical. And the fact it's and Andrew Lloyd Webber musical wears on the brain a bit. >_<
Jennifer D
Super Reviewer
Discussion Forum
Discuss Evita on our Movie forum!