The Exodus Decoded
(2006)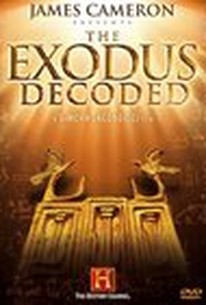 AUDIENCE SCORE
Critic Consensus: No consensus yet.
Movie Info
Producer James Cameron teams with director Simcha Jacobovici to explore the Biblical story of Exodus in a History Channel documentary that travels from Israel to Egypt and Greece to explore the many mysteries of a fascinating religious enigma.
Cast

Critic Reviews for The Exodus Decoded
Audience Reviews for The Exodus Decoded
incredibly interesting film with some decent theories, but the filmmakers werent honest enough about where the theories were differentiated from the facts. they also made a few assumptions about certain pieces of information which have turned out to be incorrect, despite the fact that there was already solid research in some of the areas they covered at the time the film was made that could have informed their theories a little better. quite a few flaws, but still interesting, well made, and fun to watch.
Best documentary to tackle the Exodus phenomenon of the enslaved Israelites during their escape from pharaoh Ahmose. Its extremely rewarding to view a believable account of the Biblical tale, from a skeptic's standpoint. For those of you who blindly believe what you've been force-fed by your religious figures, it's about time you emancipated yourself from organized religion. Here's your chance to learn about the Exodus story, completely free of religious dogma and Heston-like acting. You'll definitely appreciate the segment detailing the 'plagues', especially since scientific explanations are used. This is incredibly educational with spectacular CGI effects to effectively retain your attention. Simcha Jacobovici and James Cameron make excellent documentaries together - well worth seeing their other co-authored films.
The Exodus Decoded Quotes
There are no approved quotes yet for this movie.