The Exploding Girl
(2010)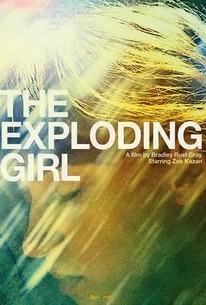 TOMATOMETER
AUDIENCE SCORE
Critic Consensus: Its languid pace and willfully understated narrative may test the patience of some viewers, but Bradley Rust Gray's gentle direction and a gripping performance from Zoe Kazan lend The Exploding Girl an appealing, melancholy beauty.
The Exploding Girl Photos
Movie Info
Cherubic college student Ivy is at home in Brooklyn for spring break with her longtime guy pal Al in tow. As her relationship with her boyfriend falls apart, Al's friendship is cast in a new light.
News & Interviews for The Exploding Girl
Critic Reviews for The Exploding Girl
Audience Reviews for The Exploding Girl
The two things I remember about this movie: 1) The main character has epilepsy but that's not the point of the story. Both of the stars I gave the film are for the refreshing normalcy with which a "disabled" character is portrayed. 2) It's otherwise a movie about people not answering their cell phones when you want them to, providing a blow-by-blow account of nothing happening.
Daniel Perry
Super Reviewer
A epileptic woman in a fizzling relationship considers romance with her longtime platonic friend. There are such long moments of silence in this film, the camera trained on Zoe Kazan's often impassive face through much of it, that it is easy to lose interest in the story and characters. As I watched the film, I thought that all of this must have happened to the writer or director, and he thought it was terribly compelling at the time and would've made a good film, but sometimes such personal stories don't translate. So much is built on silence, and sometimes I thought that whatever they were trying to communicate slipped through the cracks of understanding. Overall, I think this is a film you either love or hate, either connect with or don't, and I found myself checking my watch instead of propelled by the character's journey.
Jim Hunter
Super Reviewer
½
In "The Exploding Girl," Ivy(Zoe Kazan) gets a ride from a college friend(Hunter Canning) and they collect her childhood friend Al(Mark Rendall) along the way to return home to New York City during spring break when it is very warm.(I know. I know. It was 70 degrees in the city yesterday and there was a long line at the smoothie shop. Still.) They are so close that they finish each other's pizza and it is no problem for Zoe to let Al sleep on her couch when he returns to find his room rented out.(Ouch.) They hang out, go to parties and in between, Ivy tries to get in touch with her boyfriend Greg(Franklin Pipp) which is hit and miss at best.(Technology has vastly improved but communication has not.) At the same time, Al is flirtatious and playing the field but has at least decided upon studying science.(And I really liked the Tesla references, by the way.) All is not fun and games as Ivy also goes to the doctor for a checkup for her epilepsy and luckily she has not had a seizure since November. "The Exploding Girl" is a naturalistic study of two characters sorting out their lives as neither Al nor Ivy have gotten to the point where they have made a clear break from high school friends to college. Of course, this does not happen the same way for all people and some remain friends for life, no matter what changes occur in their lives. The camera is held at an unobtrusive distance, giving the viewer a pedestrian's view of New York City which allows us to clearly observe the characters, seeing details about them that they themselves don't notice. And there are two fabulous shots that break with this, one on a rooftop late and a closeup of Ivy's face that closes the film.
The Exploding Girl Quotes
There are no approved quotes yet for this movie.