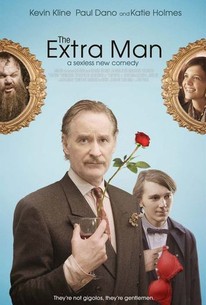 The Extra Man
2010, Comedy, 1h 48m
73 Reviews
2,500+ Ratings
Where to watch
Rent/buy
Subscription
Rent/buy
Rent/buy
Rate And Review
Movie Info
A flamboyant literature professor (Kevin Kline), who escorts rich old women on the side, teaches his cross-dressing roommate (Paul Dano) his unique perspective on life.
News & Interviews for The Extra Man
Audience Reviews for The Extra Man
A former English professor with curiosities about his sexual identity rooms with a modern-day fop in Manhattan. This is a quirky, whimsical comedy that has more than a few chuckle lines delivered by the irrepressible Kevin Kline. Kline's character is a fop, a fool who fancies himself a gentleman, and with over-wrought aphorisms his instruction of Louis, played by the demure Paul Dano, provides much of the film's delightful comic moments. There are times when the film overdoes its quirk, especially in the falsetto voice of John C. Reilly and some of the situations Louis's sexuality puts him into. On the flip side is the Katie Holmes character; the bland actress plays "the girl," a part with no personality and little use to the film's plot. Overall, <i>The Extra Man</i> features of a fine comic team in Kline and Dano, but their talents could have been put to better use had the film been more subtle; if only Miranda July, who adds just the right pinches of quirk, could have directed it...

Kevin Kline's performance is the best reason to see this film. He shines in it. The film itself disappoints. They had a good idea for a film, but didn't execute it correctly. They needed a rewrite. The pacing was off and so was the tone of the picture. Paul Dano was miscast. He comes off like a flat version of Woody Allen. Another actor in that role could have done a much better job. He lacks on screen chemistry with Katie Holmes and Kiline. Holmes does a great job here. John C. Reilly was over the top here. His voice in the film was terrible, it sounded like a voice I would hear on the muppet show.

Been passing over this one at Blockbuster for a while now. Mostly I was interested to see this for Lecy Goranson. There was nothing else there of interest. Having watched it, that's still true. Story is okay, young guy who enjoys cross dressing Loses his job and winds up moving and sharing a flat with a much older man who works as an escort. It's a bit slow and some of the characters I just found irritating. Lecy is only in it for five minutes at the end, but that scene is a highlight and quite funny. It's an okay movie to watch just once, but missing it would be okay too.

<i>"They're not gigolos, they're gentlemen."</i> A man who escorts wealthy widows in New York's Upper East Side takes a young aspiring playwright under his wing. <center><font size=+2 face="Century Schoolbook"><b><u>REVIEW</u></b></font></center> Bring Clifton Webb forward 60 years, add wackiness, and you have Kevin Kline as the eccentric bachelor in a rent-stabilized dump on the Upper East Side (yes, there are such flats still). His new roomie played by Paul Dano has a poignance, a sad yearning that I haven't seen conveyed so well since Timothy Bottoms in "Last Picture Show." Dano has the sort of face you only see nowadays looking at you across time in family pictures from a century ago or more. The face is ingenuous, pure. The kind of face that America just doesn't make anymore. Both characters have built protective walls around themselves, perhaps necessarily. Though they fascinate each other, and unintentionally entertain each other, they can't decide whether or not to be real allies. The older man depends on super-annuated ladies of wealth for his dining out and his winters in Florida. The younger man, though straight, enjoys wearing ladies lingerie while having sex. It can be all a bit depressing. But there's a soft landing, a nice ending to this opus all around.
See Details