Extraterrestrial
(2012)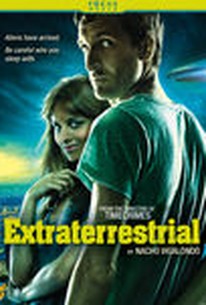 Movie Info
When Julio wakes up in a strange apartment after a night of partying, he's pleasantly surprised to discover it belongs to a beautiful one-night-stand he can't remember - Julia. What's already an awkward situation is made even more so when they discover a giant flying saucer hovering above the city, which is now deserted. Now Julio must contend with a jealous ex-boyfriend, an eccentric neighbor - and very possibly the end of the world! -- (C) Focus
News & Interviews for Extraterrestrial
Critic Reviews for Extraterrestrial
Audience Reviews for Extraterrestrial
½
"Extraterrestrial" starts with Julio(Julian Villagran) waking up in an unfamiliar bed, staring at a bra that does not belong to him. That's because it belongs to Julia(Michelle Jenner), as does the bed and apartment where they disagree over what exactly happened the night before. What they can agree on is the present where they find they have no cell phone service, internet or television reception, probably due to the honking big flying saucer downtown whose arrival they missed due to oversleeping, along with the resultant evacuation. But they are not alone as Julia's neighbor Angel(Carlos Areces) has stuck around, too. And then Julio finds out the hard way that Julia has a boyfriend, Carlos(Raul Cimas). I think there is a good deal to admire about the offbeat movie "Extraterrestrial," assuming one is looking in the right direction and ignores the four mile wide spaceship in the room. Granted it is an approach that might drive many viewers to chocolate but then they would miss the movie's neat insights into the nature of relationships, including one character in a moment of clarity and brutal honesty saying one thing so perceptive that I wonder why nobody has expressed it before. At the same time, the movie can be just as subtle in how we got here. In any case, I am left wondering what those visitors to this planet make of us poor deluded earthlings.
½
"How big is it?" "Four miles wide!" Everyone knows what to do if one morning the sky would be absolutely full of UFOs: run as fast as you can. However, what would happen if the invasion started while you are in the flat of the girl of your dreams, the one you have just met?
REVIEW
A low key, sci-fi romantic comedy from "Timecrimes" director Nacho Vigalondo, "Extraterrestrial" is about a girl (Julia) and a guy (Julio) who engage in a one night stand, only to wake up the next day and discover an ominous looking spacecraft hovering above the city. Stuck with each other and nowhere else to go, the UFO becomes the least of their worries when Julia's boyfriend comes into the picture to make things more awkward for all three of them. For anyone expecting this to be a Hollywood-type alien invasion film, you will be sorely disappointed because the film mostly focuses on the three main characters (and one nosey neighbor) and the weird, sexual politics they're all caught up in. The sci-fi part is mostly backdrop and looking at the overall picture, is mostly inconsequential to the main narrative drive of the film. The cast do a stand up job of riffing off with each other and Vigalondo's painfully dry humor (and the comedy gold that is mined from a hilariously awkward situation) is brimming with character and charisma that bounces off the four corners of the apartment from the which the story mostly takes place in. A minimalist, very cheeky sci-fi comedy, but also an astute observation on human behavior, "Extraterrestrial" is understated brilliance, its out of this world.
Lorenzo von Matterhorn
Super Reviewer
Extraterrestrial Quotes
There are no approved quotes yet for this movie.