Before the Nickelodeon: The Early Cinema of Edwin S. Porter
(2006)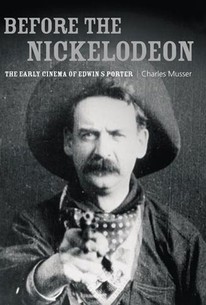 AUDIENCE SCORE
Critic Consensus: No consensus yet.
Before the Nickelodeon: The Early Cinema of Edwin S. Porter Photos
Movie Info
At the beginning of this documentary on early cinematographer Edwin S. Porter (1869-1941), director Charles Musser gives some background on the "nickelodeons" or theaters that charged a nickel as an entrance fee, and their early (presumably cheaper) predecessors. The men who set up the programs at the nickelodeons -- including Porter at times -- arranged film clips and still slides to create about a half-hour's worth of entertainment -- they were the first film editors. By 1907, eager U.S. movie-goers were investing one million nickels per day for these shows. Edwin S. Porter was active between 1886-1915 and he is still well-known for his 1903 Great Train Robbery, the world's first narrative film, all of 12 minutes long. (It should be noted that Porter's filmography after he lost his position as head of production in Thomas Edison's studio in 1908 is not included in this documentary.) Porter worked first with multi-shot sequences as early as 1901 ("The Execution of Czolgosz" on the assassination of President McKinley, using documentary footage and a staged dramatization), running through one (small) spool of film for one sequence, and another for an additional sequence, usually from another angle or of another scene. Instead of an editor at a nickelodeon putting together two film sequences, Porter was doing the sequencing as the cinematographer. Taking this idea one step further, he pioneered "overlapping continuity," as in his landmark 1902 Life of an American Fireman. In this example of the technique, he put cameras inside and outside a burning building, and in his completed film, he first showed a rescue sequence from the inside, followed by the same sequence from the outside. In the 1930s when that film was recut with methods developed by Porter's most well-known immediate successor, David Wark Griffith, the "Fireman" film was shown with alternating interior-exterior views, from the start of the rescue to the end. Director Charles Musser comments on this later style, saying that in Porter's early years, audiences were not yet visually sophisticated enough to understand the technique of multiple, simultaneous perspectives. (At the same time, other critics maintain that Porter himself intercut the scenes.) Another pioneer in a visual medium, Pablo Picasso came of age artistically during the development of these cinematic techniques, and it is curious that his own style of showing multiple, simultaneous viewpoints of a figure in one image parallels the cinematic visions emerging first with Edwin Porter and then with D.W. Griffith.
Critic Reviews for Before the Nickelodeon: The Early Cinema of Edwin S. Porter
There are no critic reviews yet for Before the Nickelodeon: The Early Cinema of Edwin S. Porter. Keep checking Rotten Tomatoes for updates!
Audience Reviews for Before the Nickelodeon: The Early Cinema of Edwin S. Porter
½
Interesting, but not very informative or thorough. An impressive panel of experts.
Christian C
Super Reviewer
½
Really interesting documentary with a lot of fascinating tidbits that i'd never heard.
Sunil Jawahir
Super Reviewer
½
What I loved about this film is it shows to the history of "queer" in (mostly) american cinema, from an early occurence, but all explains the social and political history of America in the time of the highlighted films. It also touches on some of my favourite films and directors as well, which is great when you want to learn more about film and social history. Especially John Waters.
Patrick Dolan
Super Reviewer
Before the Nickelodeon: The Early Cinema of Edwin S. Porter Quotes
There are no approved quotes yet for this movie.