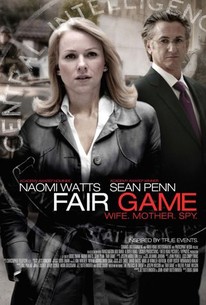 Fair Game
2010, Mystery & thriller/Drama, 1h 47m
177 Reviews
25,000+ Ratings
What to know
critics consensus
It struggles with the balance between fact-based biopic and taut political thriller, but Fair Game brims with righteous anger -- and benefits from superb performances by Naomi Watts and Sean Penn. Read critic reviews
Where to watch
Rent/buy
Subscription
Rent/buy
Rate And Review
Movie Info
Wife and mother Valerie Plame (Naomi Watts) has a double life as a CIA operative, hiding her vocation from family and friends. Her husband, Joseph Wilson (Sean Penn), writes a controversial article in The New York Times, refuting stories about the sale of enriched uranium to Iraq, Then Valerie's secret work and identity is leaked to the press. With her cover blown and other people endangered, Valerie's career and personal life begin to unravel.
News & Interviews for Fair Game
Audience Reviews for Fair Game
During the run-up to the Second Iraq War, the Bush Administration released the name of a CIA agent whose husband was critical of Bush's "evidence." Naomi Watts and Sean Penn deliver very strong performances as Valerie Plame Wilson and Joe Wilson. Watts is believable in her vulnerable scenes, reeling from the Bush Administration's treason, and Penn brings his natural intensity to his portrayal of Joe Wilson. Both in terms of the film and the actual events, I wondered why (or why not) the Wilsons never discussed the article that led to Valerie's betrayal. Regardless of the film's reliance on actual events, the story proceeds predictably, complete with the inspirational visit to Valerie's father who dispenses age-old wisdom. The story of the Iraqi scientists is also incomplete. Overall, carried by strong leading performances, <i>Fair Game</i> is not as polemic as it could be and follows a rather predictable path.

"Fair Game" is not as engrossing as it should be considering its subject matter and pedigree.

I am NOT a political movie fan. However, this movie was extremely interesting. This would have been a fantastic movie even if it was fiction. But, what made this story frightening is that it was true. I remember the 2003 pre-Iraq invasion media blitz to bolster public support for the war. The real-life characters in this film, heroes, dared to speak the truth about the Iraq situation in an environment of blind frenzy disguised as patriotism. The tragic story of Joe and Valerie Wilson is amazing. The movie does a fantastic job of telling their story, and showing the emotional distress, that this moment of national shame caused the Wilsons. I only wish that I could have rewritten the ending...as that Karl Rove and Scooter Libby were sent to jail for life for treason!

Important retelling of the true events leading up to and following the White House spitefully revealing the identity of active CIA operative Valerie Plame after her husband Joe Wilson, a former ambassador to Africa, wrote an article in the <i>New York Times</i> criticizing the government's baseless claims of an Iraqi nuclear program as grounds for declaring war. Seamlessly incorporates real media footage to illustrate how Bush's goons built their case for war as propaganda, substituting fear for fact, and the despicable lengths they went to destroy the reputations of two upstanding public servants - and how they fought back. It was a real treat to see Naomi Watts and Sean Penn reunited after their stellar work in 2003's <i>21 Grams,</i> with my favorite scenes in the film showing them in heated debate about how to respond to her sudden career crisis. Also, while they do not share screentime together, I was amused by a virtual reunion of <i>Dawn of the Dead</i> actors who played CJ and Steve the asshole. Best "cameo" of all though comes from Valerie Plame herself at the very end in newsreel footage giving a couple minutes of her opening statement of testimony to a senate oversight committee. A tight screenplay does a good job of detailing the costs and the fallout of this abuse-of-power game, and will get you mad at the Bush administration all over again. While this film is based on the two books written separately by Plame and Wilson, no trace of any evidence of Iraqi WMD's have been found to date ten years onward so I think it's easy to determine which side of this story contains the truth.
See Details