Falling in Love
(1984)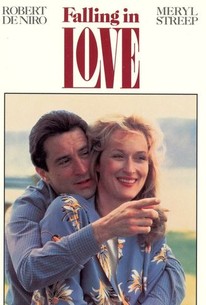 Movie Info
Falling in Love can be described as an urban American Brief Encounter. Reteamed for the first time since The Deer Hunter, Robert De Niro and Meryl Streep star as a married couple. Thing of it is, they're not married to each other. While Christmas shopping for their respective families, architect Frank Raftis (DeNiro) and graphic artist Molly Gilmore (Streep) "meet cute," their holiday packages becoming mixed up. What starts as a pleasant chance acquaintance blossoms into romance. Inevitably, however, both parties realize that what they're doing is wrong--a shade too late to save their marriages, as it turns out. The film ends with a bittersweet "one year later" coda. The natural charisma of its stars lends distinction to the otherwise so-so Falling in Love.
News & Interviews for Falling in Love
Critic Reviews for Falling in Love
Audience Reviews for Falling in Love
An American retelling of "Brief encounter". All clichés in place, the romance works mainly because it is written and played out with maturity and sensibility, which allows the viewer to care about the chain of events that lead the characters to bond and ultimately love each other, no matter if most of these occurrences are a bit corny or unrealistic.
Pierluigi Puccini
Super Reviewer
½
Okay movie. I had not seen this before. I guess for me the main problem was the two main characters were both married to other people and both mature and frumpy enough to know better. He's a construction worker dad of two and she's a housewife who is not working as she needs to be available for her ailing father. Neither of their spouses are awful or treat them badly, where you could even understand why they might stray. Both spouses are also unremarkable, dull, just like our two leads. I didn't buy the connection between the two at all. Not to say the acting is bad, it's not at all, they just don't make a convincing pair. This just feels very based towards a late 30's up market, but I'm now there myself and also married "forever" and I can't even relate to the pair of them. I can't see either what was so bad in their current partners, or what was so great about the pair of them. Okay tv viewing, but definitely Meryl has done better.
Nicki Marie
Super Reviewer
½
A simple romantic story, but somehow it touches you deep, maybe it had to do with the powerful performance of its actors. Would have liked the movie even better with a sad ending, though. It looked like it was on the cards. I was very surprised to see how easily De-Niro portrayed the role of a simple common man. Never imagined a scene involving De-Niro, asking hopefully to his friend "Do you think I am good-looking?".
Falling in Love Quotes
There are no approved quotes yet for this movie.