Fando y Lis (Fando and Lis)
(1970)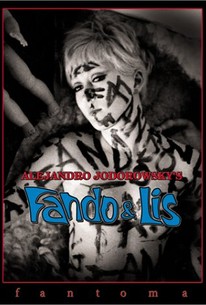 Movie Info
Directed by Alejandro Jodorowsky (EL TOPO, SANTA SANGRE), this strange classic was "lost" for 30 years. It tells the tale of two youths (Fando and his partially paralyzed lover Lis) who search through a destroyed world for the mythical city of Tar, where it is believed that all of one's wishes can come true. Instead, along the way, they are corrupted and driven mad. The film caused a riot upon its premiere at the 1968 Acapulco Film Festival.

Based on Jodorowsky's memories of a play by surrealist Fernando Arrabal, one of Jodorowsky's performance-art collaborators.
Critic Reviews for Fando y Lis (Fando and Lis)
Audience Reviews for Fando y Lis (Fando and Lis)
It is always interesting to see how Jodorowsky wanted to push the cinematic envelope with this provocative surrealist film of striking visuals - which, even if notably amateurish and flawed, already showed that he was an artist full of ideas and promising talent.
Carlos Magalhães
Super Reviewer
½
Surrealistic, raw and engrossing, Alejandro Jodorowsky's Fando y Lis is a film that has striking images of brutal violence, images that will stick with you long after you've seen. As a film, this is quite an interesting picture for what it is, and it's a film that is more for a specific type of audience as the film will surely polarize more mainstream viewers. Jodorowsky is one of those filmmakers where he crafts a film that reaches for the most bizarre aspects of cinema. He pushes the boundaries of what art is supposed to be, and this film is for the most shock art. Jodorowsky manages to craft a film that shocks and makes you question what you're watching. As a matter of fact, due to its content, it caused riots in Mexico upon release and the film was banned. I guess by today's standards the film is pretty tame, but back then, this was something else. I liked the fact that the film tried to do something quite different with how it presents us with an idea, and with that being said, it's a surreal picture that pulls you in a nightmare, one that you can't look away. Alejandro Jodorowsky picture is a captivating fantasy that is entertaining for viewer that enjoy obscured, midnight movie cult cinema. The film is not something that I would recommend for viewers who are new to his work, as it's quite bizarre, shocking and at time astounding with what happens in the film. For viewers of cult picture, you'll surely find exactly what you're looking for with Fando Y Lis, and it's a well crafted picture, even if it's not that coherent in its meaning. You'll still be trying to find what the film was about after you've seen, kind of like David Lynch's Eraserhead, which I think that like Lynch, Alejandro Jodorowsky left it up to the viewer to find meaning within the film.
Filled with symbolism, it makes for a very difficult film to summarize, but is totally worth experiencing for those with open minds. Lis can't walk. Fando drags her in a wagon on their journey. Along the way, they see a burning piano, naked zombie-like humans wallowing in mud, women playing poker with peaches and women chasing Fando. These are only some of the bizarre images. Working with no budget to speak of, and filmed on weekends, the production reeks with Bunuel influenced surrealism throwing you head first into the bottomless pit of grotesque pain that is life and makes you laugh all the way like a hyena. Enjoy..
El Hombre Invisible
Super Reviewer
Fando y Lis (Fando and Lis) Quotes
There are no approved quotes yet for this movie.