Fatso
(1980)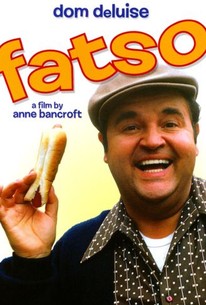 Movie Info
In this dark and sometimes sad comedy, Dominick -- an extremely obese man -- is pushed by his sister Antoinette to shed a few pounds lest he end up dead like his cousin. To do so, she helps him enroll in the fanatical weight-loss group, the Chubby Checkers, who will do anything to keep fellow members from over-eating. Another incentive for Dominick is his love for Lydia, a women whom Dominick fears has deserted him because of his obesity.The process of weight loss is torture, and he is left with a painful choice (one that the naturally thin don't always understand), suffer the pain and lose the weight or somehow learn to live with it. After his initial attempts to lose weight end in failure, and he goes on a gigantic food bender (one of the great binge scenes in movie history), in the end, Dominick learns that Lydia loves him for who he is, and he decides that he should do himself the same favor.
Audience Reviews for Fatso
Dominick (Dom DeLuise) has been eating everything in sight ever since he was a young kid. As you might guess, because of that, Dominick is overweight and he's still VERY crazy about food. But everybody tries to urge him to go on a diet when his cousin, Sal, dies prematurely of being too overweight. Eating tons of food isn't just tasteful, it's a way of life for Dominick, so it won't be easy to break the habit. I had been wanting to see "Fatso" for a long time and I finally got to see it. It's a great movie in many ways. Parts of it are hilarious, such as when Dominick keeps seeing tons of appetizing food on television no matter what channel he turns it to, and other parts are even a little bit sad. But the whole movie is entertaining, and it's hard for me to believe that "Fatso" isn't more popular than it is. If you like great movies, buy "Fatso" as soon as possible! It will make you hungry for food while you're watching it and after the movie is over, it'll probably leave you hungry for a sequel. NOTE: That was my Amazon review from the year 2001. WARNING: This movie will make you hungry. Sad that Dom Deluise is dead now.
Jason Owens
Super Reviewer
Fatso Quotes
There are no approved quotes yet for this movie.