Fellini's Roma
(1972)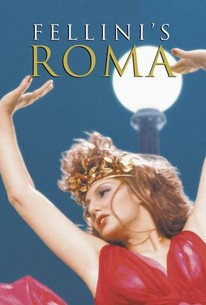 Movie Info
Fellini's Roma is a virtually plotless autobiographical tribute to Rome, Italy, featuring narration by Fellini himself and a mixture of real-life footage and fictional set pieces. It flows from episode to episode, beginning with the director's early years arriving in Rome in 1931 during the time of Mussolini. Played by Stefano Mayore as a child, he visits the city with classmates and becomes infatuated. Played by Peter Gonzales at age 18, the young Fellini moves in to a tenement building and explores the wild characters living in neighborhood. The events that follow switch between the past and contemporary times, including a story line that involves a 1970s film crew making a movie about Rome. He also incorporates segments of Roman history and problems in the government, including an improvised speech from Gore Vidal. Throughout this journey there are visits to an outdoor restaurant, a movie theater, a music hall, and a brothel. In one famously surreal segment, groups of clergymen gather together for a Catholic fashion show spectacle. After a visit to a street festival and some on-camera interviews, the film concludes with shots of motorcycles driving by the Colosseum.
News & Interviews for Fellini's Roma
Critic Reviews for Fellini's Roma
Audience Reviews for Fellini's Roma
½
Fellini continues to experiment with the limits of structure and language after his previous films, this time to take a sharp, episodic and humorous look at the Rome of his youth, the Rome of then and his ambivalent feelings for this city (or his idea of it) that he seems to love and hate.
Carlos Magalhães
Super Reviewer
I don't understand what everyone sees in this film. Maybe I'm too much of a pragmatist, but a plotless, lousy filmed, self indulgent movie seems a waste of time, even if Fellini is the director.
El Hombre Invisible
Super Reviewer
Fellini's Roma Quotes
There are no approved quotes yet for this movie.