Festival Express
(2003)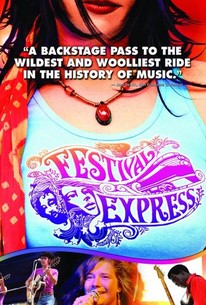 TOMATOMETER
AUDIENCE SCORE
Critic Consensus: Festival Express is a spellbinding documentary that nostalgically chronicles five days in the summer of 1970, when a train full of now- legendary rock perfomers jammed its way across Canada.
Movie Info
In 1970 a train journeyed across Canada carrying some of the greatest rock bands of all time. Janis Joplin, The Band, The Grateful Dead, Ian & Sylvia, Buddy Guy, Delaney & Bonnie, and others lived (and partied) for five days, giving concerts where and when they stopped. The train was called the Festival Express. Nicknamed the million dollar bash by Rolling Stone Magazine Festival Express was designated to capitalize on then-burgeoning craze for multi-day, talent heavy music festivals. Festival Express was planned as a festival with a difference--it would be portable. This proved to be stamp of genius, indelibly stamping the event with an aura of magic, as a large number of the performers signed on despite being offer fees substantially below their going rate. The musicians thought the train ride sounded like the party to end parties.
Critic Reviews for Festival Express
Audience Reviews for Festival Express
Back in the summer of 1970, an historic event took place that few here in the states knew about. A year after Woodstock, a promoter put together another festival with several big-name acts, including, among others, The Grateful Dead, The Band, and Janis Joplin, and scheduled three, outdoor, day-long concerts at three separate cities across Cananda. What made it historic, was that the bands travelled across Cananda together on one chartered train that became a week long jam session. This film records that entire experience and brings just a taste of it to the screen. This viewer happened to be one of the lucky few to have not only heard about the Festival Express, but actually attended the concert in Toronto that kicked it off. What a show, and what a time the musicians had. This film shows them on-stage and on the train, making music, and just plain having a great time. The commentary is provided by those who were there, remembering a time that can never be recaptured as several performers are no longer with us. Watching Janis reminded me of what a great talent she was and what a great loss that she met an early end. She definitely held nothing back in her performances and left it all on stage. Five stars!
Mark Abell
Super Reviewer
½
some filler - but great concert footage of Janis, The Band and the Dead
Bob Stinson
Super Reviewer
[font=Century Gothic]"Fesitval Express" is a documentary about a series of music festivals that took place across Canada in the summer of 1970. In order to get from one end of the country(Toronto) to the other(Calgary), the musicians involved took a rented train that had been chartered by a promoter. The musicians included the Grateful Dead, Janis Joplin, The Band and others. The various musicians came together on the train which allowed them to spend time together, party and jam pretty much for 24 hours straight.[/font] [font=Century Gothic]"Festival Express" is a rollicking tale of music which balanced idealism vs commerce - protesters saying all music was free and not wishing to pay(did this also happen at the Isle of Wight festival?) vs the right of the musicians to make a living. In Toronto, at least they found a compromise. Overall, the movie was very enjoyable with lots of great performance footage and music. Plus, it does really capture the joy of cross-country train travel. Further proof this really is the only way to go.[/font]
Festival Express Quotes
There are no approved quotes yet for this movie.