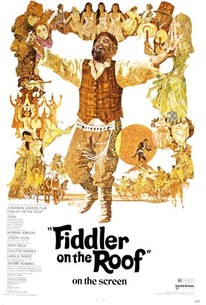 Fiddler on the Roof
1971, Musical, 3h 1m
41 Reviews
50,000+ Ratings
What to know
critics consensus
A bird may love a fish -- and musical fans will love this adaptation of Fiddler on the Roof, even if it isn't quite as transcendent as the long-running stage version. Read critic reviews
Where to watch
Rent/buy
Rent/buy
Subscription
Rent/buy
Rate And Review
Fiddler on the Roof Photos
Movie Info
A lavishly produced and critically acclaimed screen adaptation of the international stage sensation tells the life-affirming story of Tevye (Topol), a poor milkman whose love, pride and faith help him face the oppression of turn-of-the century czarist Russia.
Audience Reviews for Fiddler on the Roof
One of the few musical adaptations where an emphasis on "realism" works. Jewison constructs an entirely believable Jewish community in early 19th century Ukraine for the setting which gives the movie real emotional weight.

There is a part of me that has always felt that Fiddler on the Roof downplays the difficulties of the Jews in Eastern Europe. I wondered how it would play as a strict drama rather than as a musical. Nonetheless, Jewison takes great advantage of Topol at his best in putting to a film a Broadway classic with so many wonderful songs.

Hey now, you need to be careful when fiddling around on the roof, because it's dangerous, and by that, I don't mean that you could fall off the roof while messing around, I mean that if you start playing a fiddle on your roof nowadays, you're not likely to find enough 1905 tolerance to keep someone from throwing stuff at you, like a dreidel or something. Something along those lines is probably what would be thrown in this film, because if this film is phenomenal in no other regard, then it is phenomenally Jewish. Well, in all fairness, it is Yiddish, and there doesn't appear to be a way to not make something Yiddish really, really Jewish, though it certainly doesn't help that this film is directed and produced by a guy named, of all things, Norman [u]Jew[/u]ison; and the best part is that this dude's not even Jewish. Shoot, no wonder he did "Jesus Christ Superstar" right after this; he was getting confused as a Jew enough without this film under his belt. Actually, considering that this film is also a musical, I don't think that "Jesus Christ Superstar" so much inspired people to think that Jewison isn't Jewish, as much as it inspired people to think that Jewison was doing some kind of religious musical trilogy, which is probably why "Rollerball" was a bit of a disappointment, because Jewison went way off from the original play and didn't have anyone bust out into a song about Hinduism while playing a violent futuristic sport in which they skate or motorcylce around with spiked armor while throwing steel balls around. I can think of plenty of people who would say that if "Rollerball" really was based off of a Hindu musical, and faithfully, then it still wouldn't have been as stupid as the 2002 remake. Speaking of going off topic, it's time we cut back to talking about the film I'm supposed to be talking about, and speaking of staying faithful, you know the drill: movie good, not great, held back by quite a few flaws, so let us stop "fiddling" around and get right into this thing, because something pertaining to this film should probably be short and to the point. The film has been called immensely faithful to the play on which it's based, and sure enough, it is extremely faithful to its stage counterpart, or at least I can safely presume that, because although I have, of course, not had the opportunity to see the original stage play, it's clear as day that this film is a faithful adaptation, as it is so very faithful to theatrics in general, though perhaps to a fault. Norman Jewison drenches this film in an extremely theatrical feel, pumping it with that kind of overwhelming spirit that really doesn't translate all that well to film, thus leaving the perhaps overly lively dialogue and forced incorporation of musical numbers to come off as rather awkward and detrimental to the film's compellingness, as it taints a conflicting atmosphere. Now, it's not like the story is terribly consequential to begin with, yet the theatrical livliness of the film dilutes conflict, and with it compellingness, as well as the necessity for the film to be as long, or rather, as overlong as it is. Whether it be because of the many forced overlong musical numbers or because of the film's staying faithful to the theatrical sensibility of dragging things out so that people don't find their money squandered on an all too brief theatrical affair, the film achieves its 3-hour runtime forcefully, maybe not to where it finds itself meditating upon total nothingness or especially expendable material, but still to where it finds its momentum further hurt, and the unevenness of the pacing doesn't help either. With all of my complaining about the film being so overlong, quite often, certain scenes feel relatively tight, thus leaving incorporation of the overlong moments that give this film its excessive length to fall into play uncomfortably and render the film's momentum to further run askew. Now, looking at the premise, it's not like this film held the potential of being terribly outstanding, yet it does deserve to be handled better than it is, being overlong and overblown to the point of losing some steam and, by extension, substance impact. However, within entertainment value lays this film's redemption, for although the film is so overwhelming, with not quite enough dramatic bite to it, it remains an immensely enjoyable film, being able to back up its problematic theatrics, for the most part. As I said, Norman Jewison stays faithful to the original play by actively drenching the film in theatrics, and there's no not doing that as much as he does without problems arising, so of course this film was doomed to get too lively for its own good, yet many genuinely good things can emerge from this livliness, if of course you have the entertainment value to back up the theatrics. Well, as sure as sunshine, Jewison compensates for his making the film so unapologetically theatrical by making it wildly entertaining, breathing into this film fiery charisma and flare that reflects theatrical grandness and keeps the film thoroughly engaging and delightfully lively, especially when it comes to the musical sequences. Though as overlong, overused and rather forced as the numbers found in most every musical of this type, the musical numbers in this film are outstanding, with Sheldon Harnick's memorably catchy lyrics and Jerry Bock's sweeping compositions going considerably well-executed, and complimented by relatively simple yet still dazzling set pieces that keep you tapping your toes and having a grand time, even if the numbers do often throw off the focus on the film's substance a bit, no matter how much the lyrics "pertain" to the scenario at hand. Of course, when the story does fall into play, while its effectiveness is hurt by the uneven pacing, bloating and theatrics, it remains a strong and fascinating story, with resonance that, when actually handled well enough by Jewison's storytelling, really does ring home effectively and memorably, and the film owes much of its story's effectiveness to the character aspects. There are many characters within this film, and they're all so very distinct, colorful and memorable, largely thanks to their faithfully colorful portrayal. Now, certain performances are better than others, with a few performances falling a bit flat, being that this film is so theatrical, yet most everyone incorporates distinct charisma - while really playing up collective charisma through razor-sharp chemisty -, with leading man Chaim Topol particularly owning the show with his delightfully boastful, blazingly charismatic and, on occasions, a touch dramatically soulful portrayal of Tevye the dairyman, a good-hearted and considerably faithful man of tradition and experience who still has much to learn, and will learn during the journey through faith, tradition and humanity around which this film's worthy story and themes are built. Again, the film's story isn't especially outstanding, though it does deserve better than this film's presentation, yet what the film is presenting is so immensely charming, wildly entertaining and delightfully theatrical that, by the end, it's kind of hard to mind the film's excessiveness, as you'll ultimately walk away rewarded by a genuinely good time. Bottom line, the film is perhaps too theatrical for its own good, with writing and tones that faithfully translate from stage to the screen with moderate awkwardness that proves detrimental to the effectiveness of the film's substance, which is further tainted by an excessive length and uneven pacing that helps in keeping the final product from really hitting home, which isn't to say that the final product doesn't strike a chord in the least, as the film really does resonate much more often than it doesn't, boasting outstanding musical numbers and immense entertainment value, spawned by the strong story and lively concepts, brought to colorful life by Norman Jewison's delightfully charming direction and a slew of distinct, charismatic and memorable performances - the most memorable of which being by the sparklingly charming Chaim Topol -, thus leaving "Fiddler on the Roof" to stand firm as a thoroughly wildly entertaining and, at times, reasonably resonant portrait on a new age's affects on tradition. 3/5 - Good

From the stage play that this film is based on, it is obvious that special care had to be taken place due to the strong and loyal fan base that is around this musical of hope and tradition. While watching this film, it is clear to see that Norman Jewison has taken special care in the production of the film. Visually, this film is beautiful seeing the country side and showing how it changes from a poor village to an overworked piece of land that is barely holding on. The story for this film is, sadly, one of the weakest parts. One thing that a lot of people hate is repetition. This is a film that repeats itself quite a bit. The basic formula is this: Daughter gets married, Father is upset, he gives in. Now, one of the redeeming parts of this overworked plot is that it continues to work every time. Acting wise, the only person worth mentioning is Topol as Tevye. He is seriously the only actor that develops his character, and actually makes it worthwhile and good. The rest of the cast is mostly (and sadly) one dimensional and I personally do not care for that. They introduce some good characters that I would have loved to see changed and developed, but the acting of Topol makes up for them all (thankfully). Now, the score is the complete highlight of this film and what makes this film worth the watch. There are few films that treat the subject of Judaism with respect and this is one of those films that does. The music, the set props, all capture the beauty of this heavily abused and neglected and tortured religion, and finally there is a film that gives dignity. So, overall, I say see this film if you love the original stage play, like the works of Norman Jewison, or like good musicals. But if you are expecting a deep, philosophical story line, then you are looking in the wrong place. Now, why am I recommending this story? Simple: It does what it does and what it does it does well.
See Details